A Magical Technique for Avoiding Sad Chicken Breast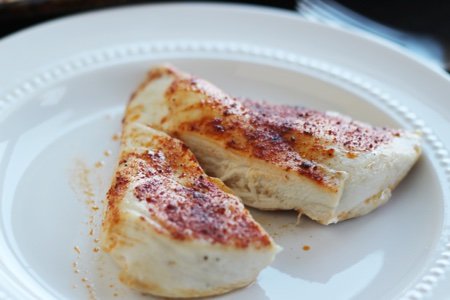 I like to have a little magic in my day, don't you?
The magic here is using a technique called "brining" to transform bland, rubbery chicken breast into something wonderful. It doesn't take very long and it ensures your chicken will be moist.
Brining enhances juiciness by ensuring that the meat absorbs liquid before it is cooked. This "extra liquid" protects the chicken from getting too dry as chicken will lose liquid as it cooks.
The best part is that it only takes 15 minutes! The chicken doesn't have to sit in a salt water bath for an entire day.
I used small, boneless and skinless chicken breasts for this recipe. They were about 4 ounces each and I think if your chicken breasts are larger, you should cut them into smaller pieces so that the brine has a chance to infuse the chicken before you cook it.
Have you ever tried brining chicken breast?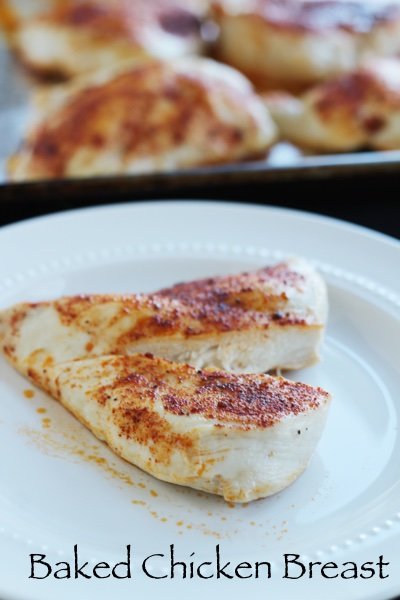 print
Pin It
Baked Chicken Breast Recipe
Makes 6 breasts
6 boneless, skinless chicken breasts (1.5 pounds)
1 tablespoon olive oil
¼ cup plus ½ teaspoon kosher salt
½ teaspoon black pepper
1 teaspoon smoked paprika
First, mix ¼ cup kosher salt in a large bowl with 1 quart of warm water. Immerse chicken breast in salted water for 15 minutes and then rinse.
Heat oven to 450 F. Pat chicken dry with paper towels and put on a rimmed baking sheet. Mix ½ teaspoon salt, black pepper, and smoked paprika in a small bowl. Brush chicken on both sides with the olive oil and them rub the spice mixture on both sides.
Bake in the oven for 15 minutes until the chicken registers the internal temperature of 170 F. Let rest for 5 minutes and serve.
One breast is 163 calories, 6.4 g fat, 1.9 g saturated fat, 0.3 g carbohydrates, 0 g sugar, 25.4 g protein, 0 g fiber, 234 mg sodium, 3 SmartPts
Points values are calculated by Snack Girl and are provided for information only.
Want more recipes like this? Check out my book
Other posts you might like:
---

I have been on a mission to avoid "sad chicken" for a while now....
---

My pal Aviva Goldfarb has been working hard. Not only does she run The Six O'Clock Scramble but she has a new cookbook out....
---
Make Eating Well Fun and Easy! Subscribe
---