Cauliflower Crunch Bites: An Appetizer For Life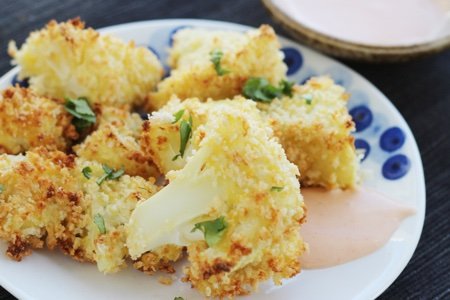 With the Super Bowl and the Oscars on the horizon, it is time to make some healthy appetizers.
This one is simple and features cauliflower. I have been criticized for my love of cauliflower but I continue to cook with it no matter what the consequences.
Cauliflower is a great vehicle for other flavors because it is so bland – and here your family or friends might not even realize you served them something healthy.
These need some kind of sauce to make them delicious – or you could add some smoked paprika and salt to the bread crumbs to make them flavorful. I mixed mayo and Frank's Red Hot but you could use a less calorie sauce such as green salsa or simply Frank's Red Hot (which has zero calories).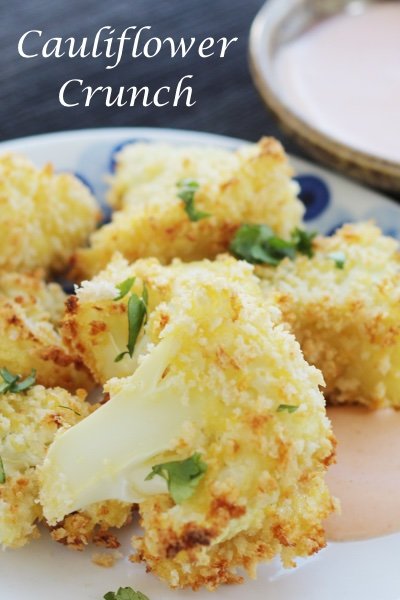 print
Pin It
Cauliflower Crunch Bites Recipe
Makes 24 bites
½ head cauliflower, cut into bite-sized florets
1 cup panko bread crumbs
2 eggs, beaten
Dipping Sauce:
2 teaspoons Frank's Red Hot
1 tablespoon mayonnaise
Heat oven to 400 F. Line a rimmed baking sheet with parchment paper. Dip cauliflower pieces into egg and then bread crumbs. Place on parchment paper and bake for 20 minutes until lightly browned and crunchy. Serve hot with sauce on the side
3 bites without sauce is 48 calories, 1.2 g fat, 0.0 g saturated fat, 6.9 g carbohydrates, 0.6 g sugar, 2.2 g protein, 0 g fiber, 79 mg sodium, 1 SmartPts
All of the sauce is 57 calories, 4.9 g fat, 0.7 g saturated fat, 3.5 g carbohydrates, 0.9 g sugar, 0.1 g protein, 0 g fiber, 300 mg sodium, 2 SmartPts
Points values are calculated by Snack Girl and are provided for information only.
Want more recipes like this? Check out my book
Other posts you might like:
---

Last month, I featured a recipe swap with carrots as the featured vegetable. Thanks so much for sharing your recipes.
---

Snack Girl is forever trying to sell you cauliflower. You can never have enough cauliflower in my opinion....
---
Make Eating Well Fun and Easy! Subscribe
---