America's favorite organic sliced bread is sort of amazing.
It features "Dave" on the packaging and seems almost quaint in it's presentation. My husband found this at Costco. I don't usually want him to shop there because he tends to come home with a ridiculous amount of stuff. Snow storm? No worries, we can survive Armageddon.
Right away, I checked the nutrition facts as he is far less picky than I am.
For one slice = 120 calories, 2 g fat, 0.0 g saturated fat, 22 g carbohydrates, 5 g sugar, 5 g protein, 5 g fiber, 180 mg sodium, 4 SmartPts
I put it to my "bread test" to ensure it is nutritious – is the first ingredient whole grain? Yes! Does it have more than 4 grams of fiber? Yes! Does it have less than 4 grams of sugar? Uh Oh – 5 grams – but not far off.
But, it tastes so good! I love all the seeds on the crust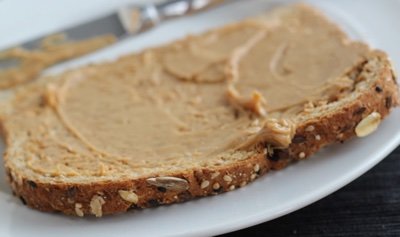 It has a ridiculous combination of seeds and grains: flax, sunflower, sesame, pumpkin, millet, barley, rye, quinoa, buckwheat, poppy…..
And it manages to have 45% of your daily value of Manganese, 20% of your daily value of Selenium, and 10% of your daily value of magnesium in every slice.
It doesn't taste like cardboard – it is delicious – and you only need one slice to feel full. I think the 5 grams of protein have something to do with that.
Here is a link to Dave's Killer Bread website so you can give it a try
Have you seen Dave's Bread? What do you think of it?
---
Other posts you might like:
---

If you are like me, you live in a town near a Target that has food in it. My Target just added fresh food such as eggs, bananas, and lunch meat....
---

I am always looking for a loaf of bread that I can recommend without a doubt. Ezekiel bread is one of those breads....
---