The Squash That You Need To Try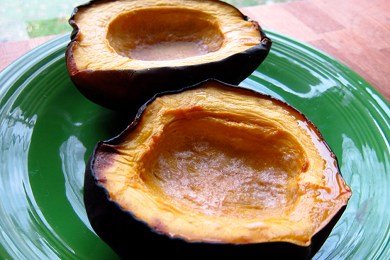 Snack Girl must confess to a certain dislike of squash. The season is NOW and the fresh squash is rolling in around here so I am trying to change my 'tude.
Acorn, butternut, delicata, spaghetti, calabaza, and kabocha, are names of squash varieties that I can pick up for ONE dollar per pound or LESS from my local farmers.
What to do? Well, when I have a food conundrum, I don't know about you, but I consult the internet. I decided to take on acorn squash because it is so freakin' cute! Check these babies out: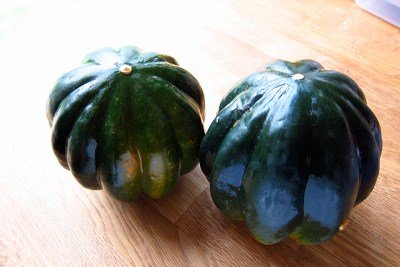 And who do we find at the top of search results? Paula Deen! She actually has an entire video devoted to roasting acorn squash here: Paula Deen Roasts Acorn Squash.
My favorite line is when she says, "That looks like two tablespoons of butter right there, dudn't it?" Ahem. Paula, that looks like about 4 tablespoons but who's counting?
Actually, I am counting and that is why I think I am the polar opposite of Paula Deen who is famous for things like deep frying bacon-wrapped macaroni and cheese squares!
She takes comfort food to a whole new level and my butt wouldn't comfortably fit in a chair if I followed her recipes. Okay, enough Paula bashing - I found one similarity - we both like the University of Georgia Bulldogs for our college football pick.
I decided to take her idea - butter and sugar - and use it for roasting some acorn squash.
An ENTIRE acorn squash (without butter) will only set you back 172 calories and you get 32% of your daily value of Vitamin A, 17% of your daily value of Iron, and 79% of you daily value of Vitamin C.
These squash are nutritional powerhouses and if you can start to love them - they are SO easy to cook and cheap.
My kids hated my roasted acorn squash. I thought the butter and sugar would do the trick. oh well.
But my husband and I loved it! Yes, this tasted like pie to me and I couldn't get enough.
Have you tried acorn squash?
print
Pin It
Roasted Acorn Squash Recipe

(makes 4 servings)
2 medium sized acorn squash
2 tablespoons butter
2 tablespoons light or brown sugar (or maple syrup)
salt and pepper to taste

Heat oven to 400F. Cut squash in half and scoop out seeds. Mix butter and sugar and brush the inside of the squash with the mixture. Add salt and pepper to taste. Place on a baking sheet and roast for one hour until tender. Serve hot or room temperature. Enjoy!
For one half acorn squash = 154 calories, 6.0 g fat, 26.9 g carbohydrates, 1.8 g protein, 3.2 g fiber, 49 mg sodium, 4 Points+
Points values are calculated by Snack Girl and are provided for information only.
Want more recipes like this? Check out my book
Other posts you might like:
---

Do you think Snack Girl is done trying to convince you to eat broccoli? I will NEVER give up (really)....
---

What is it about pears that make them look so golden? And everyone makes fun of "pear-shaped" but I think there is nothing funny about pear shapes....
---
Make Eating Well Fun and Easy! Subscribe
---