Mom, You Cooked My Pumpkin!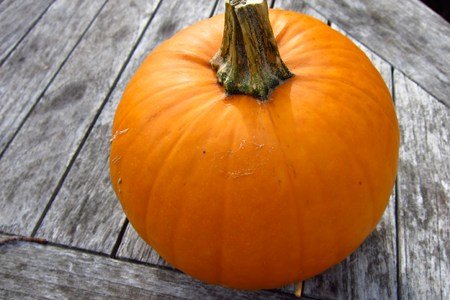 The screams began before they had even taken off their backpacks. How could you do this to a pumpkin?
I quickly pointed out that the sliced, roasted pumpkin on the baking sheet was not one of their precious Jack O'Lanterns purchased at a corn maze.
Kids get really freaked out if they think you cooked one of their toys.
This pumpkin is a sugar pumpkin and only weighs about 3 pounds. Unlike the carving pumpkins, this one is for cooking and you can find it in your grocery stores at this time of year. If you are unsure which are the "eating" pumpkins, be sure to ask someone to help you.
As I am continuing "Pumpkin Mondays", I thought it would be fun to work with fresh pumpkin.
It isn't that different from butternut squash or other winter squashes. It is a pain to peel, and since I am lazy, I use a recipe that allows me to cook it with the peel on.
It makes a beautiful side dish with a whopping 502% of your daily value of Vitamin A. See here: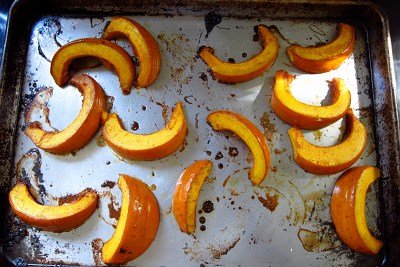 I find pumpkin to be bland so I decided to punch it up with some spices. Also, I applied the spices with a brush TWICE to get the maximum flavor.
After you have roasted the pumpkin, you can peel it and toss it in a salad or in some pasta. It really tastes like comfort food.
Be sure to save and rinse the seeds off to make delicious roasted pumpkin seeds (see below).
Have you tried to cook fresh pumpkin? How do you prepare it?
print
Pin It
Salty, Sweet, & Sour Roasted Sugar Pumpkin

(makes 4 servings)

1 (2-3 pound) sugar pumpkin
½ lime or lemon
1 tablespoon canola or other neutral oil
1 tablespoon soy sauce or Tamari
1 tablespoon brown sugar
½ teaspoon ground cinnamon
½ teaspoon ground ginger

Preheat the oven to 325 F. Cut the pumpkin in half (top to bottom) and clean out seeds and strings with a spoon. Reserve seeds for roasting (see: Roasted Pumpkin Seeds). Cut into 1-1.5 inch slices. Place pumpkin slices on a baking sheet.
Squeeze lime or lemon in a small bowl and add the rest of the ingredients. Mix until the sugar dissolves and brush onto pumpkin slices. Bake for 20 minutes and brush on spices again. Bake for 20-30 minutes until the pumpkin is soft and enjoy!
For one serving = 132 calories, 3.8 g fat, 25 g carbohydrates, 6.9 g sugar, 3.7 g protein, 1.9 g fiber, 230 mg sodium, 4 Points+
Points values are calculated by Snack Girl and are provided for information only.
Want more recipes like this? Check out my book
Other posts you might like:
---

You guys been anywhere scary lately? How about Costco where all your money seems to get scared out of your wallet?....
---

Do you think Snack Girl is done trying to convince you to eat broccoli? I will NEVER give up (really)....
---
Make Eating Well Fun and Easy! Subscribe
---