Fast & Easy Copycat Chipotle Black Beans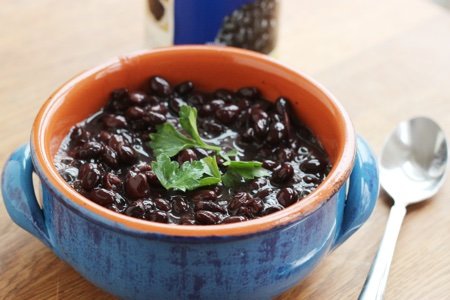 Like all the healthy foodies, I make my food from scratch unless I don't.
My time (mother of 2, full time job) is limited so I don't make a big deal out of using cans or frozen vegetables when I am in a rush. I try not to worry about the times my family eats out because I couldn't look at my kitchen.
Chipotle is one of my family's favorites AND except for the sodium levels (which are atrocious) – it doesn't do that badly for fast food.
I am a big fan of "copycat" recipes that save time and money and this black bean one does both. It saves A LOT of money because a burrito at Chipotle averages $7 – so if you can make it at home – awesome!
Chipotle chile pepper is a spice that you can find everywhere (I saw it at Walmart). It is spicy and smoky so start with a small amount and build up to where you like it. Included in this recipe is a reference to Mexican oregano. It is less expensive than regular oregano and is the perfect flavor for this side dish.
The sodium amount is going to depend on the can of beans that you use. There are SO many to choose from that it is difficult to get an accurate number. Look at the side of the can to get an idea of the salt amount in this dish.
Serve this with rice, tortillas, on a salad, over toast, with salsa, guacamole……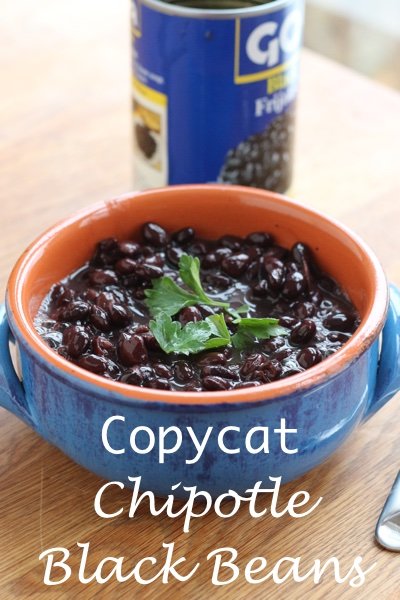 print
Pin It
Copycat Chipotle Black Beans
Makes 2 cups
1 15 ounce can black beans, with juice
1 tablespoon olive oil
¼ teaspoon chipotle chili pepper
½ teaspoon dry oregano or Mexican oregano
salt to taste
Pour can of beans into a small saucepan and add olive oil, chili pepper, and oregano. Bring to a boil and mash up about half the beans with a fork or potato masher. Eat when hot or store for later.
1/2 cup is 144 calories, 3.5 g fat, 0.5 g saturated fat, 19.3 g carbohydrates, 0.9 g sugar, 7.0 g protein, 7.9 g fiber, 74 mg sodium, 4 SmartPts
Points values are calculated by Snack Girl and are provided for information only. See all Snack Girl Recipes
Other posts you might like:
---

Sometimes you hear a crazy idea and you simply must try it....
---

If you have been following this blog for a while, you know that I am cheap....
---
---
Make Eating Well Fun and Easy! Subscribe
---