Turn Strawberry Shortcake Into Strawberry Healthycake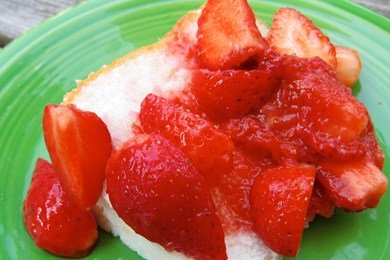 Have you ever made a traditional Strawberry Shortcake? Well, I have and the "shortcake" part calls for cream AND butter. Wowza!
And, then, you add heavy whipped cream to the top of the dessert. It does taste amazingly good, but it turns an otherwise incredibly healthy food into a dessert disaster.
What to do?
Over on Facebook, a reader suggested using an Angel Food cake as a substitution for the shortcake and I thought that was an interesting idea. Angel Food cake is basically egg whites and sugar, so you get volume without too many calories.
Because I am super lazy, I purchased an Angel Food cake from my local Stop & Shop for $4.99. After I brought it home, I cut it in half and put one half into my freezer.
The label on the side of the cake said "8 Servings" but I decided it was more like "16 Servings" - this cake is LARGE. So, one slice of my new serving size is:
75 calories, 0 g fat, 18 g carbohydrates, 1.5 g protein, 0 g fiber, 235 mg sodium, 2 Points+
Then, I used 2 quarts of strawberries and mashed up about a third of the berries (after washing and hulling them) and just tossed them into a plastic container.
At dessert time, I poured my "no added sugar" concoction onto the "almost entirely" sugar Angel Food cake and waited for my children to complain that it wasn't sweet enough.
Guess what? They liked it! The cake added all the sweetness that was necessary to be dessert - and my children inhaled a ton of strawberries. Hurray!
For you Weight Watchers fans out there, this is a 2 Point dessert where you can eat your zero point strawberries till you are red in the face and the tummy :)
print
Pin It
Strawberry Healthycake Recipe

(8 servings)
1 15 ounce Angel Food Cake (store made)
2 quarts strawberries
Cut Angel Food cake in half and place one half in the freezer for a future date. Slice 8 slices of cake and place on plates. Wash and hull strawberries. Mash 1/3 of them in a bowl with a potato masher and cut the remaining 2/3 in half. Mix all the strawberries and divide into 8 servings onto the cake.
Enjoy!
For one serving: 115 calories, 0.6 g fat, 26.4 g carbohydrates, 2.5 g protein, 3.3 g fiber, 201 mg sodium, 2 Points+
Points values are calculated by Snack Girl and are provided for information only. See all Snack Girl Recipes
Want to read about snacks?
Simple and Healthy Cooking From Top Chefs
Z Fries: The Latest In Nutritious, Delicious, and Low Cal Fries
Don't Be Fooled By This Popsicle Marketing Trick
Sweet Corn Is A Stellar Snack
Make Eating Well Fun and Easy! Subscribe
---