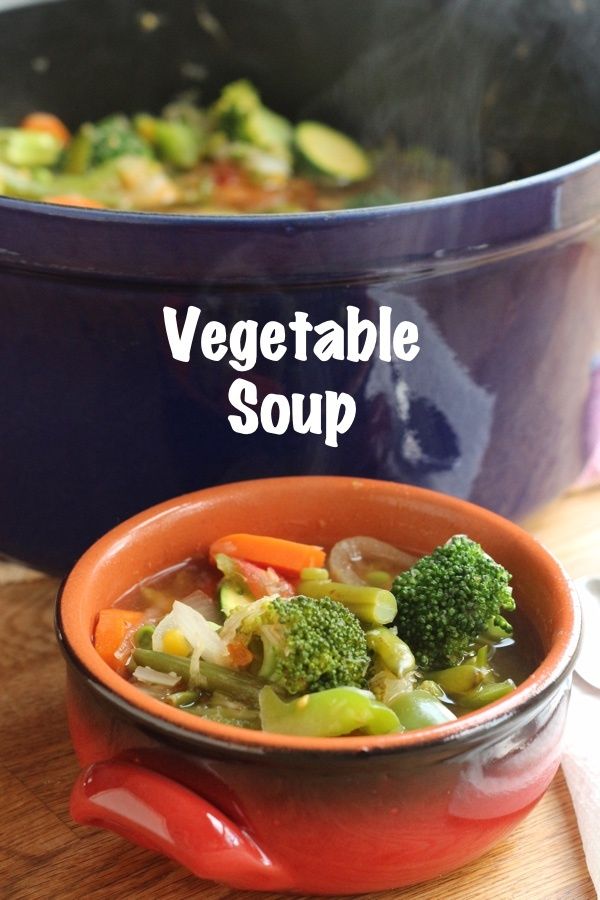 Vegetable Soup Recipe

(makes 8 large servings)

Ingredients
1 large onion, peeled
2 carrots, peeled
1 medium potato, with skin
1/4 pound green beans, trimmed
1/6 small head cabbage
3 teaspoons Better than Bouillon Vegetable
6 cups water
1 stalk broccoli (stalk peeled)
3 medium tomatoes
1 small green bell pepper
1 zucchini (5 to 6 inches)
1 cup frozen corn
1/2 cup frozen peas
1 bay leaf
1 teaspoon dried marjoram
1 teaspoon dried thyme
salt and pepper to taste
Tabasco (optional)
Instructions
Slice onion in half and slice into rounds. Slice carrots Cut potato into small cubes and snap beans into 1-inch pieces. Shred cabbage and put onion, carrots, potato, and cabbage into 6 quart cooking pot.
Add bouillon and water to cooking pot with vegetables. Bring to boil, reduce heat to medium low and simmer, uncovered, for 10 minutes.
Meanwhile, slice broccoli stem into rounds; leave tops whole. Cut tomatoes into eighths. Stem green pepper, remove seeds, and chop. Slice zucchini into rounds. Put broccoli, tomatoes, green pepper, zucchini, corn and peas into a bowl.
To the cooking pot, add vegetables in bowl, herbs, and stir. Bring to a simmer and adjust seasonings. Simmer, uncovered, about 10 minutes longer, until vegetables are crisp-tender. Enjoy!
Nutrition Facts
About 2 cups = 92 calories, 0.6 g fat, 0.1 g saturated fat, 20.2 g carbohydrates, 5.9 g sugar, 4.2 g protein, 4.7 g fiber, 338 mg sodium, Green 2, Blue 1, Purple 0
Points values are calculated by Snack Girl and are provided for information only. See all Snack Girl Recipes