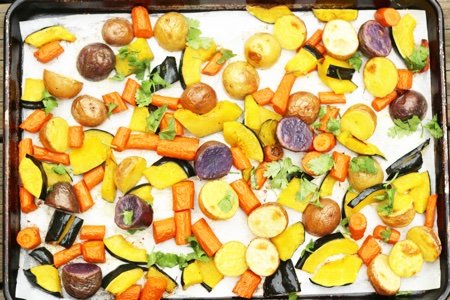 ---

Where do you think it would be hardest to be a vegetarian (and eat)? Carnivals, county fairs, and theme parks top my list.....
---

I am a big fan of Crockpot oatmeal with old fashioned oats AND steel cut oats. I like to grab whatever I have available when the weather is cold.....
---

This light broccoli slaw recipe is perfect for fall. We are moving from slaw season to broccoli season so it will help you make the transition.
---

This mini pumpkin pie recipe will save you from heaping portions of pumpkin pie. I know that many of us don't want to be rescued but some of us feel we need the help.....
---

Sliced turkey breast shouldn't be hard to buy. But, the choices are many. I am frequently amazed when I stand in front of product at the supermarket how many different items there are for purchase....
---

Easy healthy apple recipes are so simple to create. The apple is such a perfect fruit – sweet, crunchy, and it bakes well....
---

The hotel breakfast buffet is in the smallest motels and the biggest chain hotels. Since it is often included in the price of the room, I tend to search for a healthy breakfast at the buffet.....
---

This Swedish apple pie recipe was not inspired by a trip to Sweden....
---

Why does Weight Watchers work? I know there are many opinions on this program....
---

This vegetarian black bean soup recipe should be printed out and put in your favorite recipe spot.....
---

Healthy snacks for teens should be easier than for little kids except it isn't. What do you have stocked for healthy snacks after school?....
---

The healthiest milk alternative is not an easy thing to determine. First, we have to define the word "milk".....
---

A protein box is a creation from Starbucks. I saw these babies and I was inspired!....
---

I have decided to attempt a triathlon because I like a challenge and I am a wee bit nuts.....
---

How was your summer? Was it filled with barbecues and a lack of restraint?....
---

Grab and go breakfast ideas are a specialty of mine because I am usually running around with my hair on fire in the morning.....
---

Starbucks new seared steak and egg wrap captured my attention because of the emphasis on protein.....
---

his chicken fajita recipe is made in the slow cooker. I know it would be more fun if it was sizzling in a pan but I don't always have time for that.....
---

This spicy carrot salad recipe hangs out in your fridge – ready to eat when you are looking for a snack.....
---