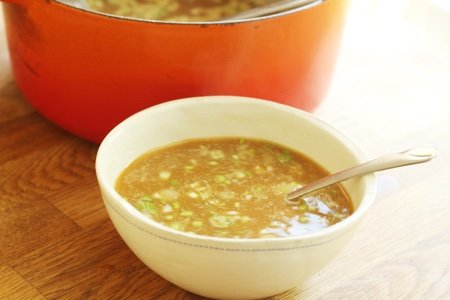 May 27, 2018
---

Do you know how to peel garlic quickly or do you avoid fresh garlic so you don't have to peel it at all?....
---

I spend a lot of my time shopping in big box stores for my family. Today, I went into Target to buy (wait for it) a new laundry basket....
---

Healthy potluck recipes have to have a couple of important components. They have to be inexpensive, feed a crowd, and something people will like.....
---

Siggi's yogurt was founded by a real person named Siggi. I know it is hard to believe but Siggi is a man's name....
---

A PB2 banana smoothie will trick you into thinking you are drinking something far more luxurious.....
---

This strawberry rhubarb compote in a slow cooker recipe will change your mind about rhubarb....
---

Are KIND Bars good for you? I wish I could say eat them without caveats but it seems that almost none of bars out there are perfect.....
---

This stuffed yellow squash recipe will convince you that squash can be fun. I know it is hard to fathom....
---

Have you ever wondered how to toast nuts in the microwave or if it was even a good idea?.....
---

Which is the healthiest bread at Subway? You would think the answer to that question would be easy.....
---
This baked cod recipe is for all of those fish haters out there. Cod is a very mild fish....
---

If you have been under a rock, you may not have noticed the Instant Pot. I made green salsa chicken in mine and it was a hit....
---

Lentil tacos are for Taco Tuesday (or anytime really). Turns out you don't need ground beef!....
---

Last month, I wrote about my No Sugar Challenge and I got a bunch of questions and responses.....
---

Marinated asparagus salad is for right now. Every year, I go nuts over asparagus and this year is no different.....
---

No bake vegan brownies are for everyone! Vegans, meat eaters, and people who love brownies but want to eat less of them.....
---

Mushroom lentil burgers are a very healthy replacement for 8 ounce beef burgers....
---

My vegan white chili is made in an instant pot. You can make it in a slow cooker if you don't have an instant pot.
---

Have you ever made egg salad with Greek yogurt? Recipes are just like music – they evolve over time.....
---