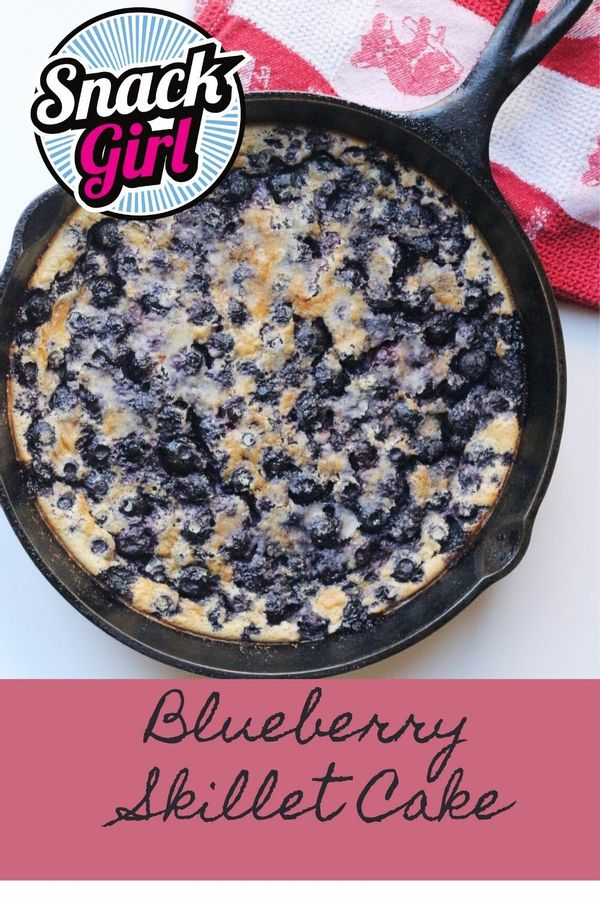 Blueberry Skillet Cake Recipe
Makes 10 servings
Prep time: 5 min
Cook time: 25 min

Ingredients
1 cup whole milk (or whatever milk you have)
3 large eggs
¼ cup sugar plus one tablespoon for dusting
½ cup white whole-wheat flour
¼ teaspoon salt
½ teaspoon vanilla
2 tablespoons butter, melted
12 ounces (2 ½ cups) frozen blueberries

Instructions
Heat oven to 400 F. Butter a 9 inch pie plate or cast-iron skillet.
Put milk, eggs, ¼ cup sugar, flour, salt, and vanilla in a blender and mix until smooth. Add butter and blend for 30 seconds more. Place blueberries in bottom of pan and pour batter over them. Dust with tablespoon of sugar.
Bake for 25 minutes or until top of cake is slightly browned. Serve warm.
Nutrition Facts
For one slice (10 in a pancake) = 100 calories, 4.8 g fat, 2.4 g saturated fat, 12.2 g carbohydrates, 9.9 g sugar, 3.2 g protein, 1 g fiber, 106 mg sodium, 3 Purple, 3 Blue, 4 Green WW SmartPts
Points values are calculated by Snack Girl and are provided for information only. See all Snack Girl Recipes