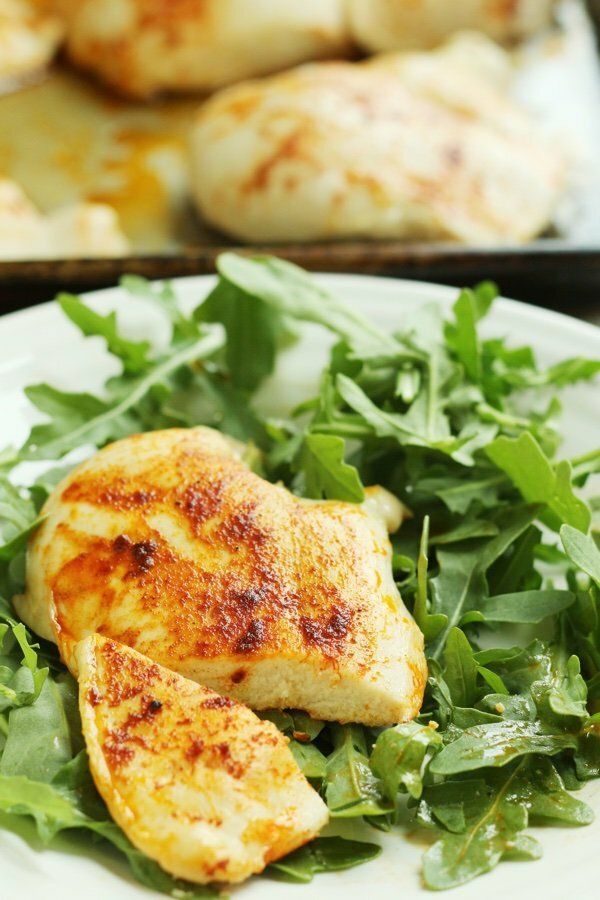 Brined Chicken Breast Recipe
Makes 7 breasts
Prep time: 5 min
Cook time: 15 min
Total time: 20 min + 30 minutes brine
Ingredients
7 boneless, skinless chicken pieces about 6 ounces each (2.5 pounds)
¼ cup plus ½ teaspoon kosher salt
½ teaspoon black pepper
1 teaspoon smoked paprika
1 tablespoon olive oil

Instructions
First, mix ¼ cup kosher salt in a large bowl with 1 quart of warm water. Immerse chicken breasts in salted water for 15 minutes and then rinse.
Heat oven to 450 F. Pat chicken dry with paper towels and put on a rimmed baking sheet. Mix ½ teaspoon salt, black pepper, and smoked paprika in a small bowl. Brush chicken on both sides with the olive oil and them rub the spice mixture on both sides.
Bake in the oven for 15 minutes until the chicken registers the internal temperature of 170 F. Let rest for 5 minutes and serve.
Nutrition Facts
One breast is 163 calories, 6.4 g fat, 1.9 g saturated fat, 0.3 g carbohydrates, 0 g sugar, 25.4 g protein, 0 g fiber, 234 mg sodium, 2 Green, 1 Blue, 1 Purple SmartPts
Points values are calculated by Snack Girl and are provided for information only. See all Snack Girl Recipes