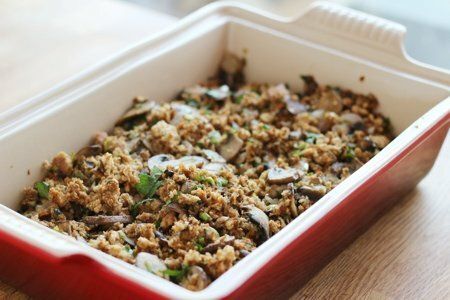 Vegan Mushroom Stuffing Recipe
Makes 6 servings, 1 cup per serving
Ingredients
¼ cup California Olive Ranch Extra Virgin Olive Oil
1 cup minced onion
1 teaspoon garlic, minced
1 pound washed and sliced white or bella mushrooms
6 cups 100% whole wheat bread crumbs (see note)
2 teaspoons dried sage
½ cup minced scallions
½ cup minced parsley
salt and pepper to taste
Instructions
Preheat oven to 325 F. Spray a casserole (9x13x2) with non-stick spray.
Heat olive oil in a large saucepan. Saute the onion, garlic, and mushrooms until mushrooms and onions soften and release their juices (about 10 minutes). Remove from heat and mix in bread crumbs, sage, scallions, and parsley. Taste for salt and pepper and put stuffing in casserole dish.
At this point, you can bake the stuffing or store it in the refrigerator for 2 days with a tightly sealed lid.
Bake for 45 minutes or until heated through and lightly browned on top.
Note: To make 6 cups fresh bread crumbs, pulse about 5 slices bread in blender or food processor. Put crumbs on a rimmed baking sheet and bake at 400F until toasted (about five minutes).
Nutrition Facts
A serving is 159 calories, 9.5 g fat, 1.4 g saturated fat, 15.1 g carbohydrates, 3.6 g sugar, 5.9 g protein, 3.2 g fiber, 119 mg sodium, 4 Points+
Points values are calculated by Snack Girl and are provided for information only. See all Snack Girl Recipes