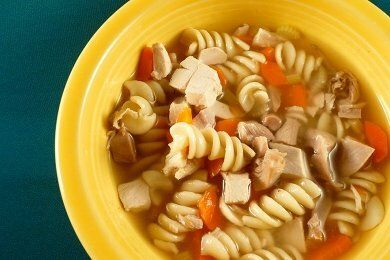 Homemade Chicken Soup Recipe

(12 servings)

Chicken Stock (make one day ahead)
1 whole 3-4 pound chicken (rinsed and patted dry)
1 cup roughly chopped onion (no need to peel)
1 cup chopped carrot
1/2 cup chopped celery
1 pinch dried thyme
1 bay leaf (optional)
1 teaspoon salt
14 cups of water (3 1/2 quarts)

Combine all ingredients in stock pot and add water. Bring to a boil, and then adjust heat so that the mixture sends up a few bubbles at a time. Cook until the chicken is done (about 40 minutes). Strain into a large bowl and press on vegetables to get out as much stock. Refrigerate overnight so that you can remove the fat which will harden at the surface of the liquid.

Chicken Soup
Chicken Stock from day before (about 12-14 cups)
2 cups pasta (Rotini is a good shape for this)
4 carrots, peeled and cut into thin slices
4 celery stalks, minced
3-4 pound chicken from day before
Salt and Pepper to taste

Remove fat from surface of stock with a spoon. Cut chicken meat off the carcass and chop. Pour stock into large, deep saucepan or casserole and bring to a boil. Adjust heat so that the stock simmers. Add the pasta, carrot, celery and cook until tender (about 20 minutes). Add cooked chicken and adjust seasonings. I usually add a lot of salt at this step because I find the soup at this point to be pretty bland.
Points values are calculated by Snack Girl and are provided for information only. See all Snack Girl Recipes