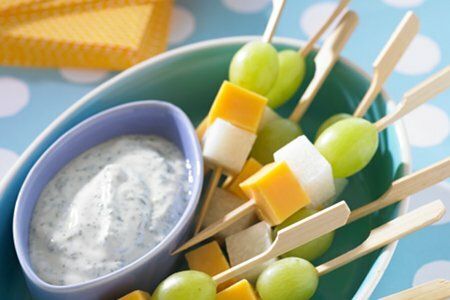 Cheddar, Jicama, & Grape Skewers Recipe
(makes 8)
Ingredients
3/4 cup green grapes
6 ounces mild cheddar cheese, cut into 1/2 inch cubes
1/4 large jicama root, peeled and cut into 1/2 inch cubes
8 10-inch wooden skewers
1/2 cup low-fat plain yogurt
1 tablespoon finely chopped fresh cilantro leaves
1 teaspoon finely grated lime zest
2 teaspoons lime juice
1 teaspoon honey
pinch of salt
Instructions
Place the grapes, cheddar and jicama onto the skewers, alternating them until there are three of each item on each skewer.
In a small bowl stir together the yogurt, cilantro, lime zest and juice, honey and salt until well combined. Serve the skewers with the sauce for dipping.
Nutrition Facts
Can substitute 1/3 large English cucumber, seeded and cut into ½ inch chunks if jicama is difficult to find.
Recipe created by Chef and Nutritionist, Ellie Krieger, M.S., R.D.
Makes 4 servings
Serving size: 2 skewers and 2 tablespoons sauce
Excellent source of: protein, vitamin C, calcium
Good source of: fiber, vitamin A
Two skewers and 2 tablespoons sauce is 260 calories, 16g fat (9g saturated fat, 0.1g mono-unstaurated fat, 0.1g poly-unsaturated fat), 11g protein, 16g carbohydrates, 4g fiber, 45mg cholesterol, 370 mg sodium, 7 Points+
---
Banana Chocolate Grape Skewers Recipe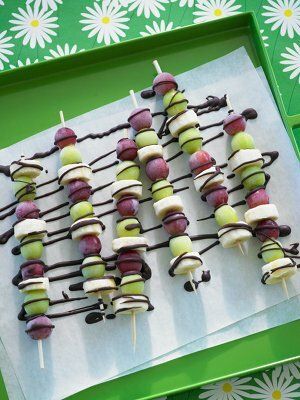 (makes 8 skewers)
2 firm ripe bananas
2 tablespoons orange juice
1/2 cup red grapes (about 16)
1/2 cup green grapes (about 16)
8 10-inch wooden skewers
1 1/2 ounces dark chocolate (60-70% cocoa solids), finely chopped
Line a baking sheet with wax paper. Cut the banana into ½-inch thick rounds. Place in a small bowl and toss gently with the orange juice.
Skewer the fruit, alternating two grapes for each piece of banana and place the fruit skewers onto the lined tray.
Place the chocolate in a small microwave safe bowl. Microwave for 1 minute, then stir well, and microwave another 10 seconds if necessary to melt the chocolate. Using a spoon drizzle the melted chocolate onto the fruit skewers.
Place the tray in the freezer for at least 2 hours. Once frozen, skewers may be transferred to a sealable plastic bag where they will keep in the freezer for up to a week. Allow to soften at room temperature for 5 minutes before eating.
Recipe created by Chef and Nutritionist, Ellie Krieger, M.S., R.D.
Makes 4 servings
Serving size: 2 skewers
Excellent source of: vitamin C
Good source of: fiber, vitamin B6, copper, manganese, potassium
Two skewers is 140 calories, 4.5g fat (2.5g saturated fat, 1.3g mono-unsaturated fat, 0.2g poly-unsaturated fat), 2g protein, 27 g carbohydrates, 3g fiber, 0 mg cholesterol, 0 mg sodium, 4 Points+
Points values are calculated by Snack Girl and are provided for information only. See all Snack Girl Recipes