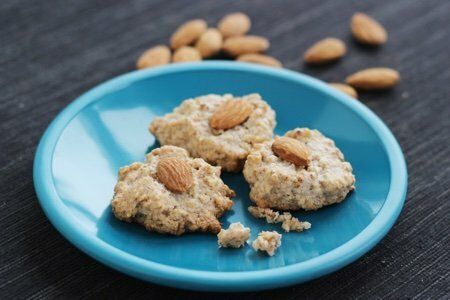 Almond Cookie Recipe
reprinted with permission from Snack Girl to the Rescue!
Ingredients
1 cup almonds plus 16 whole almonds
1/3 cup sugar
1 egg white
¼ teaspoon almond extract
Instructions
Preheat the oven to 350 F. Line a cookie sheet with parchment paper.
In a food processor, process the cup of almonds and the sugar until very finely ground. Add the egg white and almond extract and pulse until the mixture forms a ball of dough.
Divide the dough into 4 sections. With clean hands roll each section into 4 balls (making 16 cookies) and place on the parchment paper. Stick 1 almond into each cookie, pressing down so the almonds stays put.
Bake for 15 minutes or until the cookies just start to turn golden.
Nutrition Facts
One cookie is 60 calories, 3.7 g fat, 0.0 g saturated fat, 5.8 g carbohydrates, 4.5 g sugar, 1.8 g protein, 0.9 g fiber, 4 mg sodium, 2 Points+
Points values are calculated by Snack Girl and are provided for information only. See all Snack Girl Recipes