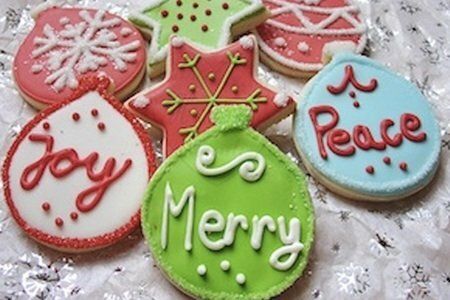 Browned Butter & Nutmeg-Spiced Sugar Cookies

reprinted with permission from Appetite for Health
(makes about 2 ½ dozen cookies, depending on size of cookie cutters)

Ingredients
1 cup white whole-wheat flour
½ cup unbleached all-purpose flour
1 teaspoon baking powder
Generous ¼ teaspoon ground nutmeg (or cinnamon)
¼ teaspoon salt
3 Tablespoons butter
1 Tablespoon canola oil
1 large egg
½ cup light brown sugar
½ teaspoon vanilla extract

Instructions
Instructions:

In a medium bowl, stir together the flours, baking powder, nutmeg and salt until well combined. Set aside.
In a small skillet over low heat, melt the butter. Heat until lightly browned and fragrant, about 1 minute, swirling it or stirring occasionally so that it doesn't burn. (Do not leave the butter unattended or it WILL burn—browning doesn't take long.) Remove from heat and let butter cool slightly.
Using an electric mixer, mix the browned butter with the oil, egg, brown sugar and vanilla extract in a bowl until blended.
Add the dry ingredients to the butter mixture and mix on low speed until combined. Gather the dough into a ball, flatten it into a disc shape, and wrap it in plastic wrap. Refrigerate dough for at least 1 hour, or up to 2 days.
When ready to bake, remove dough disc from the refrigerator. Preheat the oven to 350 degrees. Coat two baking sheets with cooking spray, or line them with parchment paper. Roll out cookies on a lightly floured surface to 1/8-inch thickness. Cut into shapes. Transfer cut-outs to the prepared baking sheets (you may want to flour your spatula—it helps cookies slide off better).
Sprinkle cookies with sanding sugar, if desired, and bake for 6-8 minutes or until edges are lightly browned. Remove and let cookies cool for 2 minutes before removing them from the baking sheets. Cookies should be stored in air-tight container for up to a week, or frozen in layers with waxed paper between.
Nutrition Facts
Nutritional Analyses Per Cookie: 52 calories, 8 grams carbohydrate, 1 gram protein, 2 grams fat, .5 gram fiber, 1 Points+
Recipe from Kit Broihier, MS, RD.
Points values are calculated by Snack Girl and are provided for information only. See all Snack Girl Recipes