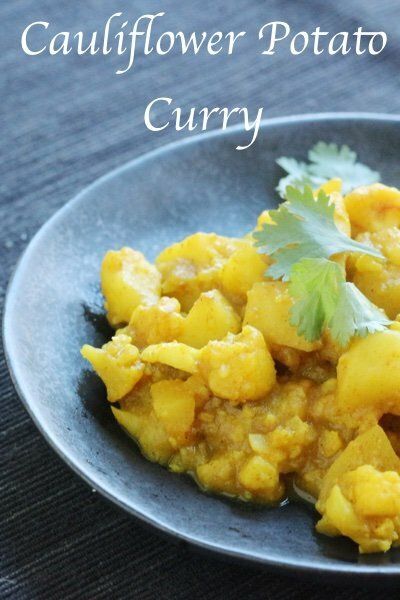 Indian Spiced Cauliflower & Potatoes Recipe
Makes 6, 1 cup servings
Ingredients
1-1.5 pound potatoes, peeled and cut into ½ inch cubes
1 head cauliflower, trimmed of leaves and chopped into florets
1-inch piece fresh ginger
½ teaspoon red pepper flakes
2 cloves garlic, peeled and minced
1 tablespoon ground coriander
2 teaspoons ground cumin
2 teaspoons ground turmeric
½ teaspoon salt
2 tablespoons vegetable oil
1 ¼ cup water
½ cup fresh cilantro, chopped (optional)
Instructions
Peel the ginger and grate it using a fine grater into a small bowl. Mix in the pepper flakes, garlic, cumin, turmeric, coriander, salt, and oil.
Heat a sauce pan over low heat and add spice paste. Cook for 5 minutes until the spices are toasted and smell really good. Add the potato and cauliflower, bring up the heat to medium, and stir for 3 minutes. Add water, mix, and simmer covered for 20-25 minutes until cauliflower and potato are soft.
Add cilantro and serve.
Nutrition Facts
One cup is 137 calories, 5.0 g fat, 1.0 g saturated fat, 21.4 g carbohydrates, 2.4 g sugar, 3.1 g protein, 4.1 g fiber, 218 mg sodium, 4 Points+
Points values are calculated by Snack Girl and are provided for information only. See all Snack Girl Recipes