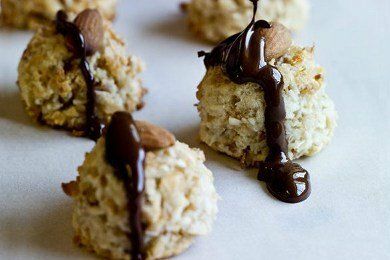 "Almond Joy" Macaroons Recipe
reprinted with permission from Marissa Churchill's "Sweet & Skinny"

Makes about 30 macaroons
As a child, I loved coconut desserts: macaroons, coconut cake, and especially the chocolate and coconut Almond Joy candy bar. I haven't eaten one of those in many years, but I do eat these cookies, designed to be reminiscent of the candy, but much better for you. In this version, pineapple replaces some of the coconut for natural sweetness with fewer calories.
INGREDIENTS
Ingredients
1/3 cup unsweetened crushed pineapple, well drained
1 3/4 cup unsweetened shredded coconut
1 cup sugar
3/4 cup liquid or fresh egg whites (about 5 large whites)
1/4 cup all-purpose flour
1/8 teaspoon salt
1/2 teaspoon pure vanilla extract
Nonstick pan spray
30 whole almonds
1/4 cup semisweet chocolate chips

Instructions
INSTRUCTIONS
Put the pineapple, coconut, sugar, egg whites, flour, and salt into a medium saucepan and cook over medium-high heat, stirring constantly, for 5 to 6 minutes, until all of the liquid has evaporated and the mixture is thick like oatmeal. (Do not be concerned if the mixture browns along the bottom of the pan.) Remove from the heat, stir in the vanilla, and refrigerate for at least 1 hour.
To bake the cookies, preheat the oven to 350°F. with a rack in the center position. Coat a baking sheet with pan spray or line with a silicone baking mat.
Scoop out tablespoon-size balls of the mixture. Arrange the cookies on the baking sheet about 1/2-inch apart (they will not spread). Press an almond into the top of each cookie. Bake 20 to 25 minutes, until the cookies are golden brown. Halfway through the baking time, rotate the pan from front to back. Transfer the cookies to a wire rack until they are completely cool, about 1 hour.
Melt the chocolate in a double boiler until you can stir it smooth. (Alternatively, use a microwave oven.) Spoon the melted chocolate over the cookies in a zigzag pattern. Allow the chocolate to harden, then serve. The cookies can be stored in an airtight container at room temperature for up to 1 week. The cookie dough can be made up to 2 weeks in advance and refrigerated, tightly covered, until forming the macaroons and baking.
Nutrition Facts
For one cookie = 87 calories, 4.6 g fat, 10.4 g carbohydrates, 8.3 g sugar, 1.3 g protein, 0.9 g fiber, 23 mg sodium, 2 Points+
Points values are calculated by Snack Girl and are provided for information only. See all Snack Girl Recipes