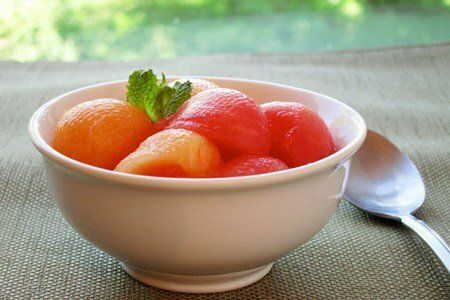 Mojito Melon Balls Recipe
reprinted with permission from Farmers' Market Desserts by Jennie Schacht
These refreshing mouthfuls of melon bathed in mint, lime, and rum are the perfect way to cool down on a hot summer day. I like to double the recipe for the mint syrup (without lime or rum) and refrigerate half of it in a sealed jar to perk up summer iced tea or for tossing with other fruits. This dessert is best served the day it is made.
Season to Taste: Substitute locally available melons and experiment with herbs from your market or your own garden. For a refreshing red, white, and blue finish to a Fourth of July barbecue, use watermelon and a white-fleshed melon and replace a cup or two of the melon with blueberries.
Farm Journal: Melons prefer a long, warm, frost-free growing season, making the South the preferred region for cultivation. California, Texas, Georgia, Arizona, and Florida are the primary states for commercial crops. But melons have been spotted at farmers' markets in many other states, from Oregon, Minnesota, and Illinois to North Carolina and New York. Depending on the location, the earliest melons are harvested in April, with the season peaking in July and August and continuing in some areas nearly through the end of the year.
Makes 6 to 8 servings
Ingredients
1/2 cup granulated sugar
1/2 cup water
1/3 cup firmly packed fresh spearmint leaves or mixed mint and lemon verbena leaves, coarsely chopped, plus 8 mint leaves for garnish
2 tablespoons light rum (optional)
1 personal-size seedless watermelon, or 1/4 large seedless watermelon
1 small to medium Crenshaw, Sharlyn, honeydew, Charantais, cantaloupe, or other melon
Finely grated zest and juice of 1 lime, plus 1 lime for garnish
Instructions
Directions:
Combine the sugar and water in a small saucepan over medium heat and bring to a boil, swirling the pan to help dissolve the sugar. Boil for 1 minute to dissolve the sugar completely, then remove from the heat and stir in the mint leaves and the rum. Let cool to room temperature, about 20 minutes.
While the syrup cools, cut the melons in half. Using a melon baller, scoop out 8 cups of melon balls, placing them in a large bowl. (Alternatively, cut the melon into about 1/2-inch cubes.)
Strain the cooled sugar syrup through a fine-mesh strainer held over the melon balls, pressing on the leaves to extract as much flavor as possible. Add the lime zest and juice and toss to coat the melon balls evenly. Cover tightly and refrigerate for several hours until very cold.
To serve, toss the melon balls again to coat. Scoop the balls into dessert glasses along with a spoonful or two of the juices. Stack the mint leaves for garnish, roll up tightly lengthwise, and cut crosswise into fine ribbons. Thinly slice the lime crosswise into rings. Just before serving, scatter the mint over the melon and decorate with the lime slices.
Nutrition Facts
One serving without rum is 96 calories, 0.3 g fat, 24.2 g carbohydrates, 22.6 g sugar, 1.2 g protein, 1.2 g fiber, 13 mg sodium, 1 Points+
Points values are calculated by Snack Girl and are provided for information only. See all Snack Girl Recipes