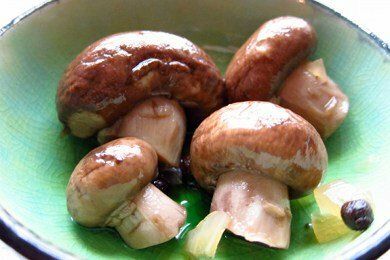 Polish Pickled Mushrooms
reprinted with permission from "The Joy of Pickling" by Linda Ziedrich, Harvard Common Press, ISBN 978-1-55832-375-9.
(makes 1 pint or 8 servings)
1 pound mushrooms
1/2 cup chopped onion
2 Mediterranean bay leaves
2 teaspoons whole black peppercorns
1 teaspoon allspice berries
2 teaspoons pickling salt
1/2 cup water
1/4 cup white wine vinegar

Ingredients
1. Combine all of the ingredients in a nonreactive saucepan. Bring them to a boil, reduce the heat, and simmer them for 15 minutes.
2. Put the mushrooms and their liquid into a pint jar. Let the jar cool, then cap it. Store the jar in the refrigerator for several days before eating the mushrooms.
3. Refrigerated, the mushrooms will keep for about 3 weeks.
Instructions
for one serving = 19 calories, 0.2 g fat, 3.1 g carbohydrates, 1.9 g protein, 0.9 g fiber, 484 mg sodium, 0 Points+
Points values are calculated by Snack Girl and are provided for information only. See all Snack Girl Recipes