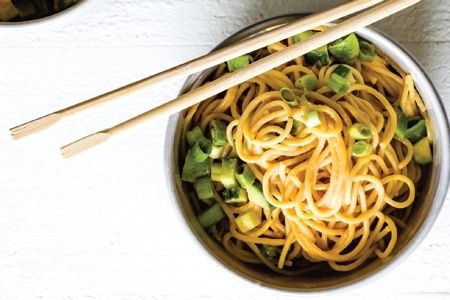 Reprinted with permission from Prep by Katie Sullivan Morford © 2019 by Katie Sullivan Morford. Photographs © 2019 by Alanna Taylor-Tobin. Reprinted in arrangement with Roost Books, an imprint of Shambhala Publications, Inc.
NOODLES WITH SPICY PEANUT SAUCE
MAKES 4 TO 6 SERVINGS
If you've ever had spicy peanut sauce at a Thai restaurant, you'll recognize the flavors in this dish, which are peanutty, a little salty, and just spicy enough. It's super-easy to make because the sauce is just peanut butter with a few other ingredients whisked in a bowl, then tossed with cooked pasta. For vegetables, use whatever you like in any combination. (I'm partial to snap peas, red bell pepper, and cucumber.)
Kosher salt for the pasta cooking water
1 pound spaghetti
1 lime
½ cup unsweetened, creamy peanut butter
1 tablespoon soy sauce
2 tablespoons seasoned rice vinegar
1⁄3 cup water
1½ teaspoons sriracha (more if you want it spicier)
3 green onions
2½ cups diced crunchy raw vegetables in any combination, such as cucumbers, bell peppers, celery, carrots, and snap peas

KEY EQUIPMENT: large pot, large bowl, whisk, chef's knife, cutting board, colander

Fill a large pot with water and add enough salt so that the water tastes slightly salty. Put the pot on the stove over high heat. When the water boils, add the spaghetti, stir, and cook according to package directions until al dente (see page 56).
While the pasta cooks, cut the lime in half and squeeze enough juice to fill 1 tablespoon. Put the lime juice into a large bowl with the peanut butter, soy sauce, rice vinegar, water, and sriracha. Stir with a whisk until creamy and smooth. Set aside.
Lay the green onions on a cutting board. Trim off the hairy-looking tips and the dark green ends and discard. Cut the white and light green parts into very thin, round slices.
Once the pasta is done, set a colander in the sink, and pour in the pasta to drain well.
Add the pasta, vegetables, and green onions to the peanut sauce and mix well. If the sauce thickens and the pasta gets sticky as it sits, add another 1 to 2 tablespoons of water (or a splash of sesame oil if you have it) to thin the sauce. Serve immediately.
PRO TIP: Instead of making these noodles with spaghetti, try substituting Asian noodles, such as soba or udon. Be sure to read the package for cooking instructions, since they will be different from conventional spaghetti.
Avoid the Burn
Maneuvering around the stove with a pot of pasta in boiling water takes extra care. Here are a few tips to prevent kitchen mishaps:

Set your colander in the sink before you carry the pasta pot over to drain. 

Use 2 good pot holders and never pick up a pot with a cloth that is damp. 

Before you carry a heavy pot over to the stove, do a trial run by lifting the pot up just a 
little to make sure you can handle the weight. If it's too heavy, ask for help or use a slotted spoon to transfer the pasta from the pot to a bowl and then drain in the sink.

Carefully lift the pot and carry it to the sink. Tip it away from you, pouring hot water and pasta into the colander.

Points values are calculated by Snack Girl and are provided for information only. See all Snack Girl Recipes