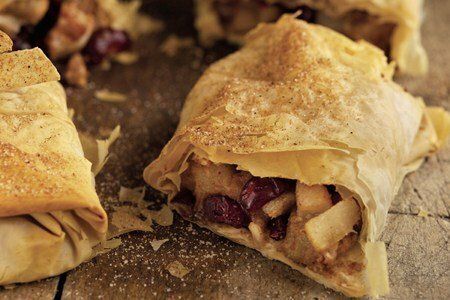 Pear Cranberry Strudel
reprinted with permission from "The Ultimate Volumetrics Diet" by Barbara Rolls, Ph.D.
This light and simple dessert works best with pears or apples—their relatively dry flesh allows the phyllo to get crisp. Look for the smaller size phyllo sheets as they are very easy to work with.

Makes 6 servings (100g each), 3-inch piece each

Ingredients
3 medium (444g) or 2 large pears (about 1 pound), peeled, cored, and chopped
2 (14g) graham cracker squares, crushed
1⁄4 cup (15g) loosely packed dried cranberries
1 tablespoon (16g) light brown sugar
2 teaspoons (5g) ground cinnamon
1 teaspoon (3g) cornstarch
1 teaspoon (4g) granulated sugar
Eight 9 by 14-inch (90g) or four 14 by 18-inch sheets phyllo dough

1. Preheat the oven to 350°F. Spray a baking sheet with cooking spray.

2. Combine the pears, graham crackers, cranberries, brown sugar, 1 teaspoon of the cinnamon, and the cornstarch in a medium bowl.

3. If using the large size phyllo, cut in half to create eight 9 by 14-inch sheets. Working quickly to prevent the dough from drying out, stack 2 sheets on the baking sheet, spray lightly with cooking spray, and top with 2 more sheets. Place half of the pear mixture along the long edge of the phyllo stack about 2 inches from the edge and 2 inches from each side. Fold the edge over the filling, fold the side edges over the filling, then gently roll up. Position seam-side down, spray lightly with cooking spray, and sprinkle with ½ teaspoon each cinnamon and granulated sugar.

4. Repeat with the remaining phyllo dough and filling.

5. Bake for 40 minutes or until the phyllo is light brown and very crisp. Cut each strudel into 3 pieces and serve immediately.

Instructions
Nutritional Information per Serving:
Calories 120, Carbohydrate 26g, Fat 1g, Protein 2g, Fiber 3g, Points+ 3
Points values are calculated by Snack Girl and are provided for information only. See all Snack Girl Recipes