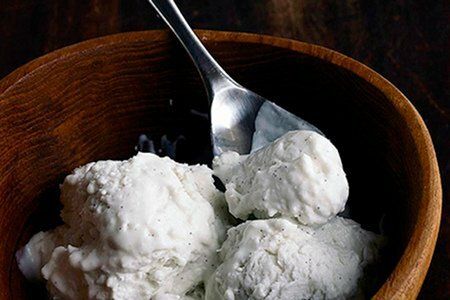 Coconut Vanilla Frozen Yogurt Recipe
reprinted with permission from art & lemons
(Yield 1 quart)
Ingredients
1 3/4 cups whole coconut milk (about 1 1/2/400 mL cans), strained to make coconut cream
2 vanilla beans (seeds scraped)
1 1/4 cups Greek-style yogurt (whole or 2%)
3/4 cup natural cane sugar
1 cup unsweetened shredded coconut

Instructions
To make coconut cream:

To strain the coconut milk, line a mesh strainer with cheesecloth or a layer of paper towels. Slowly pour the coconut milk into the strainer (You'll need to buy 2 cans, but will only use about 1 1/2 cans. You can stir the leftover coconut into steel-cut oats, pancake batter, or quick-breads); then refrigerate for an hour.
Nutrition Facts
To prepare the vanilla beans:

Flatten the vanilla beans and cut them in half lengthwise. Scrape the seeds from each half with the flat edge of a knife.
To make the frozen yogurt:

Mix the coconut cream, yogurt, and sugar together in a medium-size bowl. Stir until the sugar is thoroughly mixed in. Add the vanilla bean seeds and shredded coconut. Cover the bowl and refrigerate for 1 hour. Transfer the mixture to an ice cream maker and freeze according to manufacturer's instructions.
(This recipe is inspired by Heidi Swanson's Vanilla Frozen Yogurt).
For ¼ cup = 154 calories, 11.2 g fat, 13.1 g carbohydrates, 11.2 g sugar, 1.5 g protein, 1.2 g fiber, 12 mg sodium, 4 Points+
Points values are calculated by Snack Girl and are provided for information only. See all Snack Girl Recipes