Greet Spring With A Tasty Little Treat
Anyone else have $2 per pound fresh strawberries greeting them at the supermarket. Hurray!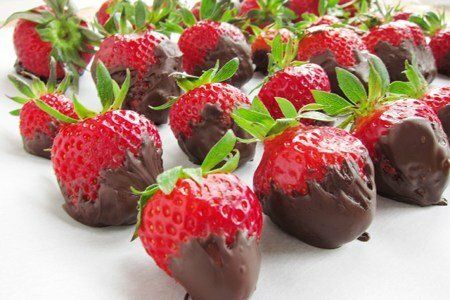 Spring is here and fresh strawberries scream out, "Put away those snow shovels and get out those cute cocktail umbrellas!!".
Yes, I am ready. I made a bunch of dark chocolate covered strawberries for my favorite club. These wonderful women get together once a month to hear a speaker and to support each other in their endeavors. It was my turn to bring snack and the pressure was on.
You see, since they know I am Snack Girl, I can't just show up with a bag of Doritos. What would that do to my healthy snacker reputation? I didn't have time to bake or shop so I just dipped some strawberries in chocolate and refrigerated them until it was time to go.
How were they received? Let's just say that only 4 strawberries made it home, which was perfect because I have four hungry family members (including me).
What do you do when you see fresh strawberries?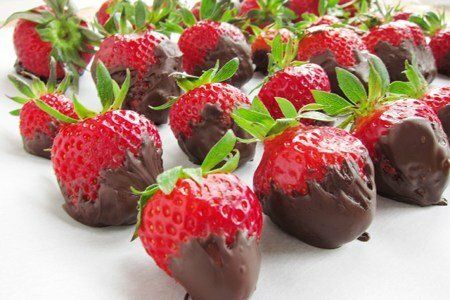 Dark Chocolate Covered Strawberry Recipe

(makes 12)

Ingredients
1 pound fresh strawberries
3/4 cup dark chocolate chips

Instructions
Lay a sheet of wax paper or parchment paper on a cookie sheet. Wash and dry strawberries leaving on the leaves. Heat chocolate chips in a double boiler or small bowl in the microwave. If using the microwave, heat in one minute increments and stir every time you take it out to prevent it from burning.
Dip strawberries on a time in the chocolate, immersing just half of the strawberry. Place on paper lined baking sheet and refrigerate for 20 minutes. Enjoy!
Nutrition Facts
For one strawberry = 48 calories, 2.0 g fat, 1.3 g saturated fat, 7.8 g carbohydrates, 6.1 g sugar, 0.8 g protein, 0.5 g fiber, 0 mg sodium, 1 SmartPt
Points values are calculated by Snack Girl and are provided for information only. See all Snack Girl Recipes
Other posts you might like:
---

Have you ever made a traditional Strawberry Shortcake? Well, I have and the "shortcake" part calls for cream AND butter. Wowza!
---

I decided to put "Good Read" in my title in the hopes that you will actually read what I have to say....
---
---
Get Free Email Updates! Yes please!
---