Lighter Cheese Sauce Using Cauliflower
You know how pasta and cheese is the ultimate comfort food combination? What if the cheesy part was only 100 calories per cup?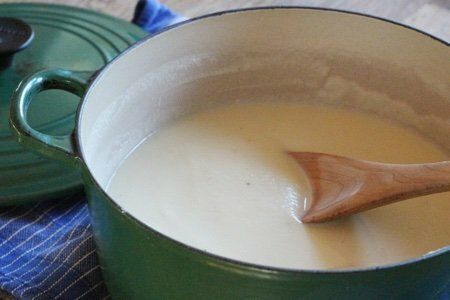 Now, thanks to a reader who sent me a recipe from Pinch of Yum, I have wonderful recipe for lighter cheese sauce. This cauliflower sauce reminds me of a creamy Alfredo sauce which usually includes 1 stick butter, 1 cup cream and 2 cups of Parmesan cheese (again, not kidding) but with a fraction of the calories.
The first ingredient is 8 cloves of garlic. Do not be afraid. You cook it to mellow it out and it adds a wonderful flavor.
I did try to puree the cauliflower with an immersion blender but it didn't work. You need to use a regular blender to puree the cauliflower to the correct consistency. Also, you aren't using all the liquid that you are cooking with – so the immersion blender isn't a good choice.
I served this over fettucini (and I added some frozen peas and a little crumbled bacon over the top). My daughter pronounced this as one of my best recipes ever. And my son?
"This is almost as good as macaroni and cheese!"
Have you tried a cauliflower puree instead of a cream sauce? What did you think?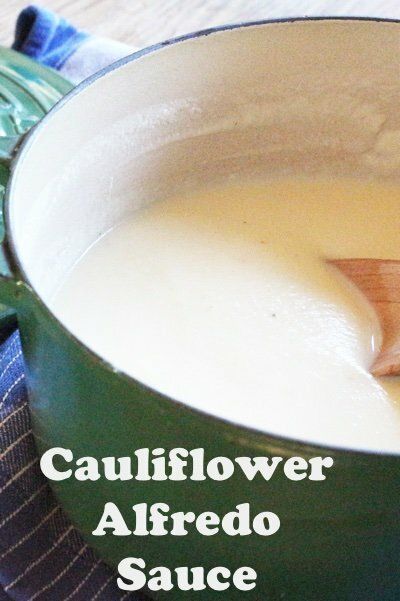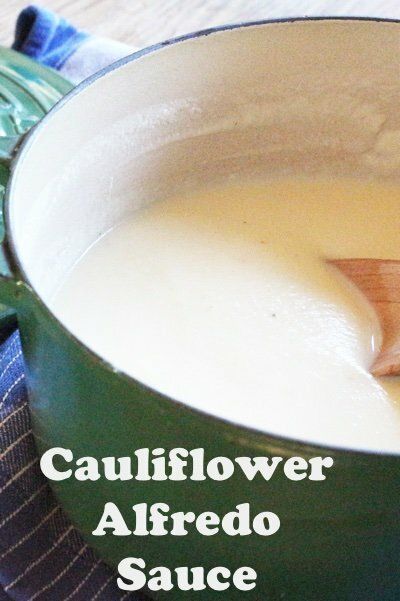 Creamy Cauliflower Sauce Recipe
Makes 5 cups
Ingredients
8 large cloves garlic, minced
2 tablespoons butter
1 medium cauliflower, roughly cut into florets
4 cups (32 ounces) vegetable broth
2 cups water
1/2 teaspoon salt
½ cup milk
ground black pepper (to taste)
Instructions
In a small pan, melt butter and add garlic. Saute garlic over medium heat until translucent being sure to remove it from the heat before it browns (about five minutes).
Add cauliflower, vegetable broth, and water to a large stockpot and heat until boiling. Simmer about seven minutes until cauliflower is tender.
Remove cauliflower from stockpot with a slotted spoon and measure out 1 ½ cups of the stock and water mixture. Pour out the rest of the liquid from the pot. In a blender puree sautéed garlic, cauliflower, stock/water, and milk (this may take a few batches). Pour sauce back into stockpot and adjust seasonings. Heat until hot and pour over pasta, rice, eggs, and/or vegetables.
Nutrition Facts
One cup is 95 calories, 5.5 g fat, 5.3 g saturated fat, 9.0 g carbohydrates, 4.0 g sugar, 4.2 g protein, 3.0 g fiber, 427 mg sodium, 3 SmartPts
Points values are calculated by Snack Girl and are provided for information only. See all Snack Girl Recipes
Other posts you might like:
---

I have been called the "Queen of Cauliflower" and there have been complaints about my constant desire to work this vegetable.....
---

Snack Girl is always looking for a way to save time. I never seem to have a leisurely day....
---
---
Get Free Email Updates! Yes please!
---