Nuts are nutritious and portable
Are you nuts about nuts? I sure am. Roasted, salted, plain or slivered, almonds are a wonderful snack. They contain a ton of vitamins and they will fill you up and keep you going. A serving is considered to be one ounce which is approximately 23 almonds!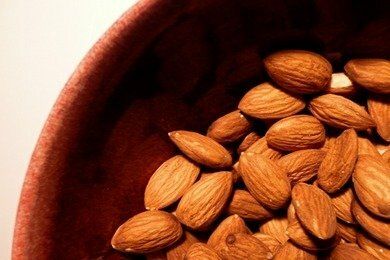 There is enough fat in almonds to end your hunger, and they are small and easy to carry around. Of course if you are watching your weight, you should measure out one ounce before you eat an entire bag. At 180 calories per ounce, almonds are not a low calorie food. But don't avoid them because they are calorie filled - just eat a few to reduce the calorie impact.
A good way to save money is to buy a large quantity of almonds and then measure them out in a baggie. Place them in your briefcase, glove compartment, or purse and you will think twice about stopping at a convenience store for a snack.
If you don't like to use plastic the Almond Board of California will sell you a snack tin to store your almonds in. It is the size of an Altoid's container, and it costs $4 (see http://almondboard.agweb.net/).
Hate almonds? Check out peanuts, cashews, or walnuts.