Fairs, Amusement Parks & The Food: A Few Solutions
Snack Girl has already been to Six Flags New England with her children and dealt with the expensive fried food problem.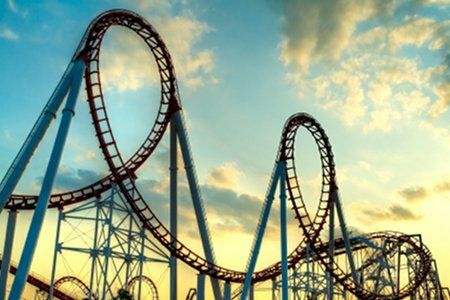 What did I do? Did I eat at the park? Well, yes I did. I had 1/2 chicken strips meal and my tummy felt a bit like I had eaten concrete.
I received this plea from Clare:
Help! I'm headed to Wild Waves in a few days, and I'll be there during lunchtime and snack time. I've never been and I don't know what to expect as far as food goes.
I'm gluten free and dairy free, and trying to lose weight. Plus you're not allowed to bring food in to the park. Please help!

I feel ya, Kenaia. It isn't easy to enjoy the rides when you can't eat at the park. My first suggestion is that you could ride on the ones that spin you really fast and then you won't be hungry! I did that when I visited Six Flags and I felt pukey for 2 hours.
I'm just kidding. Here are a few ideas that I have come up with after hours of research.=:
1. Call the park and tell them that you are gluten-free and dairy-free and ask them if you can bring in your own food. I did this with Six Flags to see what they would say. The representative told me to tell the security guards at the front gates about your "special diet" (AKA healthy diet) AND as long as you aren't bringing in what they already sell there - you are good!
How about that? So, the next time I go to Six Flags I will inform the security guard that I can't eat ANYTHING they serve at the park as I am allergic to $12 chicken strips, hot dogs, hamburgers, etc. and I will bring in my sandwich on gluten free bread (they don't sell it at the park), orange, apples, and bananas.
2. Find the salads. Surprisingly, Six Flags sells salads. Call your local amusement park to find out if they have healthy options and if so - where? These parks are huge so you need to identify where in the park you can purchase the salad. Then plan to be close to that spot at lunch time.
3. Smuggle in your own food. I KNOW I am going to get flamed for suggesting this - but I managed to bring in an apple, orange, and PB&J to an amusement park because I have this stealth back pack (see below). It has a large pocket and then a smaller one next to it. No security guard has ever opened the smaller pocket to check to see what I have in there. They do inspect the outside pockets.
4. Take a day off from your diet. When faced with ice cream, fried dough, sizzling sausages, deep-fried Twinkies, and gallons of soda - how can you keep to a healthy diet? It just is too hard to deny yourself these treats when you are surrounded by them. It's like walking by a candy jar to the water cooler. How many times does it take before you grab the mini-Snickers bar? I know that after about three passes - my will power melts and I stop and eat one.
5. Go to your car at lunch time. Many fairs and amusement parks will stamp your hand and allow you reenter for the day. Pack a cooler with your favorites, find a cool spot, and have a picnic. This can be a relaxing way to break up the hard day of riding on roller coasters.
Finally, don't be too hard on yourself. Our county fairs, amusement parks, and water parks are trying to make the food be FUN and appeal to every one. Unfortunately, they have left out the people who are trying to be healthier. I'm sure one day "Kale Chips" will be served :)
How do you deal with the summer fairs and amusement parks? Please share.
---
currently unavailable Buy on Amazon.com
As an Amazon Associate I earn from qualifying purchases.
---
Other posts you might like:
---

See those wings up there? They are packing some heat! (and I'm not talking about flavor)....
---

Snack Girl, the person, wants to "walk the talk" of her website. She confronts many situations where it isn't easy to follow her own advice...
---