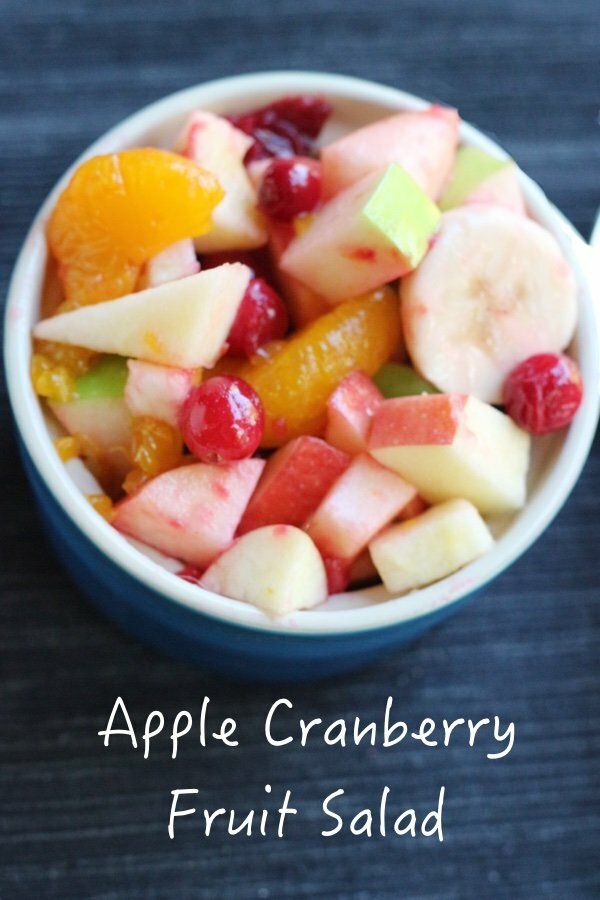 Apple Cranberry Fruit Salad Recipe

Serves 8

1-12 ounce bag fresh cranberries, rinsed
1 cup sugar
½ cup water
2 red apples (such as Gala or McIntosh) chopped
1 green apple (such as Granny Smith) chopped
1-11 ounce can mandarin oranges, drained
2 large bananas sliced
½ lemon
mini-marshmallows (optional)
walnuts (optional)

In a small saucepan heat water and sugar over medium high until dissolved. Add cranberries and bring to a simmer. Cook until you hear a few pops and remove immediately from heat.
While cranberries are cooking, mix apples, mandarins, and bananas in a large bowl and squeeze some lemon juice over them to prevent them from turning brown.
After the cranberries are done, let them sit for five minutes and then drain them.
Toss the cranberries with the other fruit and add optional walnuts and/or mini-marshmallows. Enjoy now or refrigerate in a tightly sealed container for up to 2 days.
For one cup of salad without nuts or mini-marshmallows =115 calories, 0.2 g fat, 0.0 g saturated fat, 27.8 g carbohydrates, 19.3 g sugar, 0.8 g protein, 4.4 g fiber, 4 mg sodium, 2 Freestyle SmartPts
Points values are calculated by Snack Girl and are provided for information only. See all Snack Girl Recipes