Apple Cranberry Fruit Salad
As we move toward Turkey Day, it is time to start thinking of what you are going to make and you need apple cranberry fruit salad.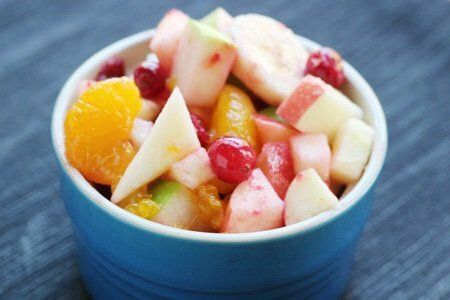 I LOVE apples in salad because they provide a crunch and sweetness that can't be beat – check out my broccoli apple salad recipe if you want more inspiration. That salad went viral on Pinterest for a while and I was so proud!
Fresh cranberries are now in stores in the produce section. I always get excited when I see them – and I always make my own easy cranberry sauce on Thanksgiving.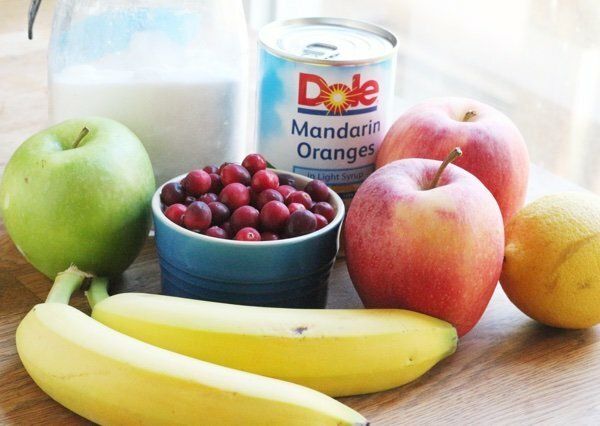 This salad is couple of different things. First, it is festive! Look at how cute those cranberries are. It is also versatile. I would serve it anytime – as a dessert – as an appetizer – it is fruit and so much of the holiday food is so heavy that many are excited to see a lighter dish.
If you don't have two cutting boards, do get one if you chop a lot of garlic and onions. I have found that those flavors stick to the board and can flavor my fruit in a way that is not ideal. At the bottom of the post, I have included some bamboo cutting boards that I really like.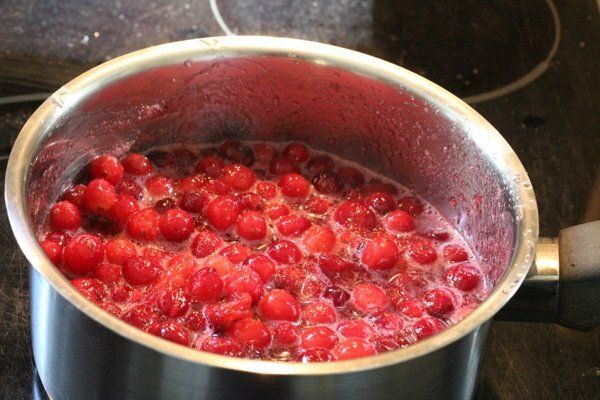 The only cooking here involves the cranberries which you must boil with some sugar (or they are far too tart). You don't use the sugar syrup in the salad so it is still very light. Cook them until they POP and not a second longer so they still retain their round shape.
Add mini-marshmallows if you want to make this more of a dessert or walnuts to make it more hearty.
This is a great anti-dote to all the butter that shows up for the holidays. I received all of my magazines and it seemed like every single recipe included a stick of butter.
I love butter as much as the next person but you can have too much (deep fried butter anyone?)
How do you serve cranberries this time of year? Please share.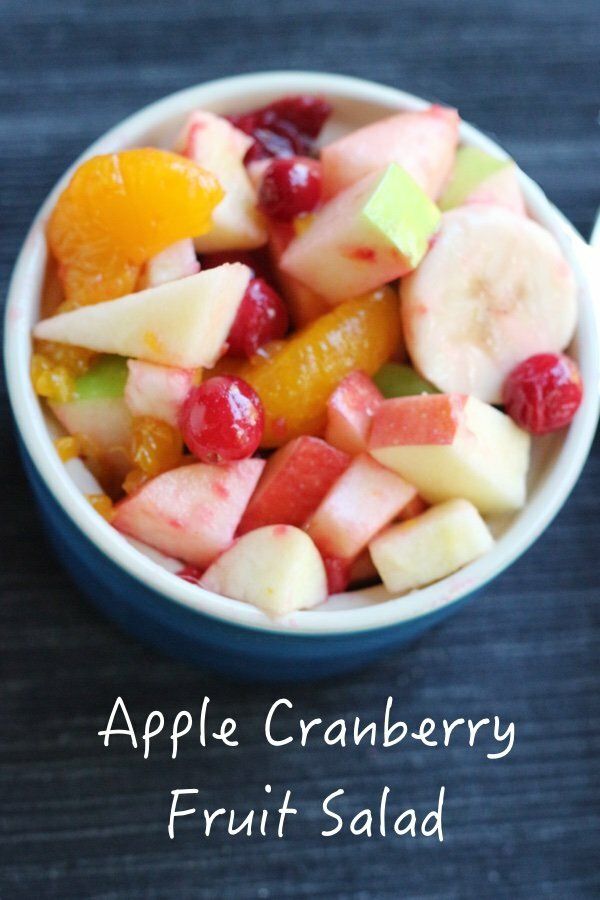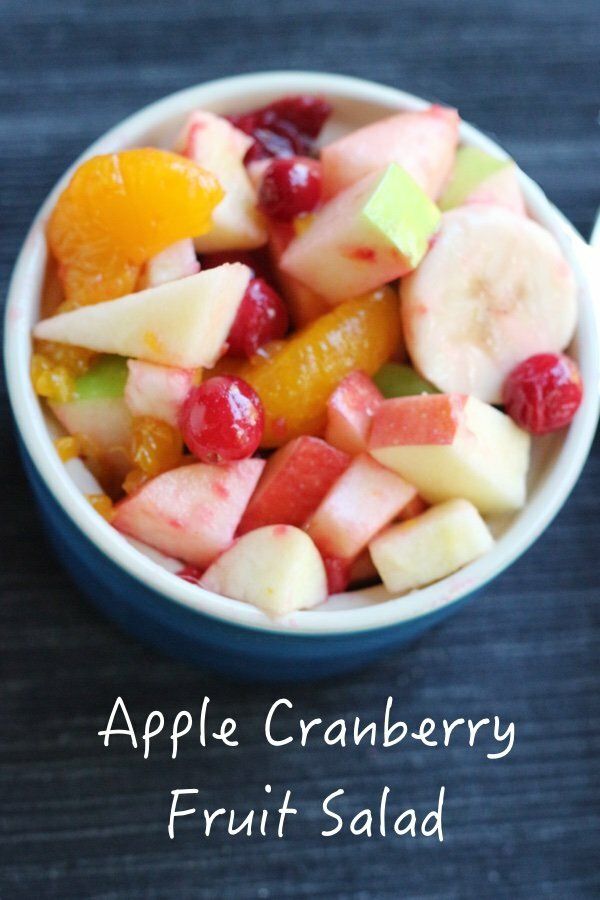 Apple Cranberry Fruit Salad Recipe

Serves 8

Ingredients
1-12 ounce bag fresh cranberries, rinsed
1 cup sugar
½ cup water
2 red apples (such as Gala or McIntosh) chopped
1 green apple (such as Granny Smith) chopped
1-11 ounce can mandarin oranges, drained
2 large bananas sliced
½ lemon
mini-marshmallows (optional)
walnuts (optional)

Instructions
In a small saucepan heat water and sugar over medium high until dissolved. Add cranberries and bring to a simmer. Cook until you hear a few pops and remove immediately from heat.
While cranberries are cooking, mix apples, mandarins, and bananas in a large bowl and squeeze some lemon juice over them to prevent them from turning brown.
After the cranberries are done, let them sit for five minutes and then drain them.
Toss the cranberries with the other fruit and add optional walnuts and/or mini-marshmallows. Enjoy now or refrigerate in a tightly sealed container for up to 2 days.
Nutrition Facts
For one cup of salad without nuts or mini-marshmallows =115 calories, 0.2 g fat, 0.0 g saturated fat, 27.8 g carbohydrates, 19.3 g sugar, 0.8 g protein, 4.4 g fiber, 4 mg sodium, 2 Freestyle SmartPts
Points values are calculated by Snack Girl and are provided for information only. See all Snack Girl Recipes
---
$17.99 Buy on Amazon.com
As an Amazon Associate, I earn from qualifying purchases.
---
---
Other posts you might like:
---

Two years ago I posted this recipe and thought, "No one is going to read this."...
---

Broccoli apple salad is the perfect salad that you can make on your day off and then eat all week?....
---
---
Get Free Email Updates! Yes please!
---