Fast food that is good for you
May 8, 2009
Hey, these look like fries!! Yes, they are "fry posers" created by Burger King to help you (and your children) avoid eating French Fries. Will it work?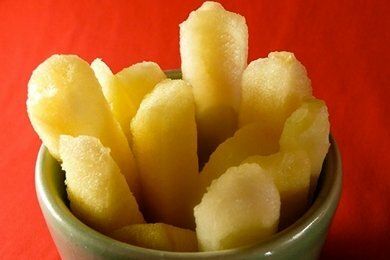 How do they taste? I photographed and sampled these guys and I thought they tasted okay. There is a slight chemically taste to them as compared to Apples. I would not buy these if I was close to a fruit stand.
What about children? Do they like them? Well, I had a very limited tasting with my 2 children. They recognized them as fries, and then were surprised they were apples. They ate them happily because for some strange reason - kids love food in shapes. All I have to do is make a smiley face with their food and they get excited.
I wasn't given the sugary sauce for these when I purchased them, so maybe you can ask them not to give it to you. But, I do not believe that a little added sugar will take away from the overall healthiness of the apple. Dip a little!
So, if you are at Burger King, order your child (or yourself for that matter) a Small Hamburger (without mayo), apple fries, and milk (about 500 calories). You will a pretty nutritious lunch and MANY fewer calories than if you had ordered the Whopper with cheese, large fries, and a Coke (bordering on 1,200 calories).