Are Granola Bars Healthy?
I feel like I have tried every granola bar on the planet as I call myself Snack Girl. Are granola bars healthy?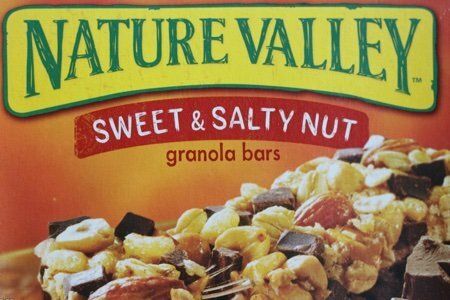 The concept of a snack bar made with oats, nuts, dried fruit, and maybe a little bit of chocolate is a good one. You can tell that food companies like the idea because they keep coming out with new variations.
I love the idea of tossing something like this in my purse and eating it instead of something far worse (I am looking at YOU – chocolate chip cookie) when I get hungry in the late afternoon and am looking for a pick me up.
The problem is that most granola bars are:

1. Packed with sugar (by that I mean over 5 grams per serving).
2. Too many calories (you want less than 150 calories for a snack).
3. Not tasty (some taste like the plastic they are wrapped in).

Some granola bars feature long ingredient lists and even have artificial sweeteners. My biggest complaint is just when I have figured out which bar will work for me – the company will change the recipe or discontinue it.
I have to buy bars without walnuts, pecans, and hazelnuts because my family has tree-nut allergies. My favorite bar – a KIND bar – that featured fruit and nuts and less than 5 grams of sugar – added walnuts to the recipe (ARGH!). But even this bar wasn't perfect because it has 200 calories (Dark chocolate nuts and sea salt).
The Nature Valley bars in the above photo are 160 calories but they have 9 grams of sugar per bar (but no walnuts).
Do you see how the hunt for the perfect granola bar is a lifetime journey?
Here are my tips for finding a healthy granola bar:
Buy the ones with whole nuts. These will provide you with the most nutritional bang for your calorie buck because of the fiber and protein that naturally occur in nuts.

Keep it as close to 5 grams of sugar per snack as possible. If this means cutting up the bar and wrapping up the other half for another day – then do it. Half a bar is usually the perfect snack.

Don't buy "chewy" as these are the ones with the most sugar.

Check the ingredients list every once in a while to ensure the food company hasn't changed it.

Finally, if you are sick of getting the less than perfect bar – make my homemade granola or my fruit and nut bars.
These are about 5 grams of sugar per serving and you can design the recipe to fit your taste buds. Also, my granola and bar taste FRESH (which you cannot find in a box).
What is your favorite granola bar? Please share.
---
Other posts you might like:
---

I make this granola often because I love it. I developed the recipe for my book because I wanted to give readers an alternative to boxed cereal.
---

Have you ever heard the phrase "imitation is the sincerest form of flattery"?...
---