Are SlimFast Shakes Healthy?
When you see SlimFast advertise "balanced nutrition" does that make you think that their shakes are healthy?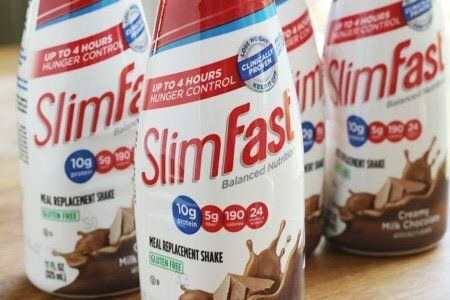 I don't know many people who wouldn't want a "Creamy Milk Chocolate" shake that helped us lose weight and was a healthy choice. Now THAT is a holy grail for food companies.
What is a SlimFast Shake? It is meal replacement shake that you pair with one balanced 500 calorie meal and three snacks – fruit, veggies or SlimFast snack bars per day. I would guess that the average amount of calories that you would eat is about 1200.
Most of us eat far more than 1200 calories per day so it would follow that you would lose weight if you stuck to the plan. Of course, once you went back to your regular diet of MEALS and not SHAKES, you are almost guaranteed to gain the weight you lost back.
Here is the ingredient list for the Creamy Milk Chocolate shake:
Fat Free Milk, Water, Sugar, Cocoa (processed With Alkali), Canola Oil, Milk Protein Concentrate, Fructose, Gum Arabic, Cellulose Gel, Mono And Diglycerides, Hydrogenated Soybean Oil, High Fructose Corn Syrup, Potassium Phosphate, Maltodextrin, Soy Lecithin, Cellulose Gum, Carrageenan, Natural And Artificial Flavor, Sodium Bicarbonate, Sucralose And Acesulfame Potassium (nonnutritive Sweeteners), Sodium Citrate, Citric Acid, Magnesium Phosphate, Calcium Phosphate, Sodium Ascorbate, Vitamin E Acetate, Zinc Gluconate, Ferric Orthophosphate, Niacinamide, Calcium Pantothenate, Manganese Sulfate, Vitamin A Palmitate, Pyridoxine Hydrochloride, Riboflavin, Thiamin Mononitrate, Folic Acid, Chromium Chloride, Biotin, Sodium Molybdate, Potassium Iodide, Phylloquinone (vitamin K1), Sodium Selenite, Cyanocobalamin (vitamin B12), Cholecalciferol (vitamin D3). Sweetened With Nutritive Sweeteners And Nonnutritive Sweeteners. Contains Milk And Soy.
Oh my.
If I can simplify – I believe this is like chocolate milk with added fiber, protein, sodium, and a multi-vitamin. I'm not sure what is "balanced" about this combination. Balanced is one of those words marketers can use without any tough standards like the word "natural". These words don't mean anything and should be disregarded when on a product package.
Here are the nutritional facts for one shake:
190 calories, 6 g fat, 2 g saturated fat, 25 g carbohydrates, 18 g sugar, 10 g protein, 5 g fiber, 210 mg sodium, 8 SmartPts
Are SlimFast Shakea healthy? I think it is not something I would drink if I was trying to lose weight or become healthier. It has a lot of sugar (they list it 3 times and include high fructose corn syrup) and sodium – and even with 10 grams of protein – I am not sure it would fill me up.
The second ingredient is WATER - which makes me think that $2 for one of these is way over priced. SlimFast is probably making bucks off including water (an ingredient that is almost free).
It tastes like chocolate milk with sucralose added (not very good).
There are so many better options for a quick "meal" replacement – for example Greek yogurt (high in protein, low in calories), smoothies that you can make yourself – try this Peanut Butter Banana Power Shake, KIND bars, a apple with peanut butter, cheese and whole grain crackers....
You can even find low sugar chocolate milk and take a multi-vitamin. This combination would cost far less than the $2 per shake that I spent to buy these.
Obviously, the SlimFast shake is a processed food and shouldn't take the place of whole foods (fruit, vegetables, lean meats, and whole grains).
I can understand the convenience of drinking a shake when you are in a hurry – but it would be far better to buy a Ninja, Vitamix, or Blendtec and make your own shake based on whole foods (try this Green Smoothie).
Do you drink SlimFast shakes? Why do you drink them? Do you think they are a healthy choice?
Other posts you might like:
---

Dr. David Ludwig has been trying to help people lose weight for 20 years at a clinic at Harvard....
---

Snack Girl has had MANY readers tell her to try "green" smoothies. Well, before last Tuesday, I had one word for them - YUCK!...
---