An Easy One Pot Artichoke Chicken Dinner
This is what my dish looked like before I put it in the oven.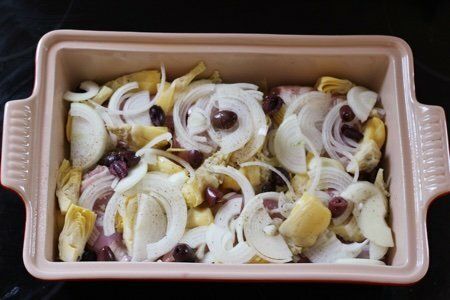 Where is the after picture? Ummm, whoops! Casserole got chowed down so quickly that I couldn't get my camera out fast enough.
Or maybe I forgot to take a picture I was so ENTRALLED by this chicken dish.
I am always looking for ways to only clean one pot and make a good meal. This is easy because you aren't really cooking – just dumping yummy ingredients into a casserole.
Artichokes packed in water (not marinated because then you are adding oil) are a great vegetable. One large artichoke contains only 25 calories, 170 milligrams of potassium, and is a good source of vitamin C, folate, magnesium and dietary fiber.
My daughter liked the chicken but wouldn't eat the artichokes and my son demanded a cheese sandwich instead. Oh well.
I could see this with oregano, sun dried tomatoes, feta cheese, or other flavoring agents to pop it up a bit. But, if you are in a hurry to toss a meal into the oven – this works.
Do you eat artichokes for dinner? How do you serve them?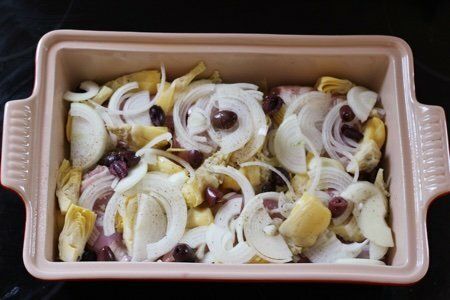 Artichoke Chicken Recipe

Makes 6 chicken thighs

Ingredients
1 ½ pounds chicken thighs, boneless & skinless (6 thighs)
2 14-ounce cans artichoke heart quarters in water, drained
1 large onion sliced
½ cup pitted Kalamata olives, halved
freshly ground pepper
½ lemon

Instructions
Heat oven to 350 F. Spray a 9x13 inch casserole with non-stick spray. Place ½ onion slices, 1 can artichoke quarters, ½ olives in bottom of pan. Layer chicken thighs over vegetables. Add one more layer of onions, artichokes, and olives. Dust with pepper and bake for 35-45 minutes.
When cooked the internal temperature of the chicken should be 165 F. Squeeze lemon over top and serve hot.
Nutrition Facts
For one thigh and 1/6 vegetables: 220 calories, 11.2 g fat, 3.2 g saturated fat, 9.0 g carbohydrates, 1.5 g sugar, 21.7 g protein, 5.7 g fiber, 400 mg sodium, 5 Points+
Points values are calculated by Snack Girl and are provided for information only. See all Snack Girl Recipes
---
Other posts you might like:
---

Snack Girl hasn't sucked on a hockey puck lately, but she has grilled skinless chicken breast past the point of edible....
---

Chicken salad is famous for blobs of mayonnaise and showing up at picnics. Snack Girl To The Rescue! features a blobless chicken salad that I make frequently because it is my favorite chicken salad (and I can make it in a flash)....
---
---
Get Free Email Updates! Yes please!
---