Greet Spring With Some Bacon (And Asparagus)
Whenever I write about bacon, Snack Girl gets a surge of readers. Why?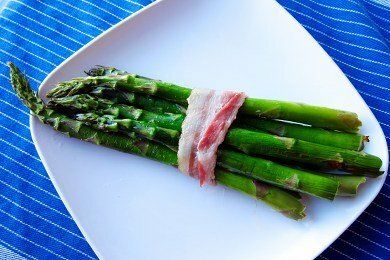 We all want a way to have our bacon and eat it too. Bacon, sadly, is a salty, fatty food that is best eaten rarely as a treat. It is basically salt cured fat with some meat attached.
The key to eating bacon and living a long life is to use it as a condiment. Bacon chunks on a salad comes to mind - not the bacon on a sundae from Denny's.
Think of bacon as a flavoring agent and you can mix it with some healthy food to get a delicious side dish. I used bacon below to wrap around a pile of asparagus spears.
One serving of this bacon dish is merely 74 calories and packs a big nutritious punch. No need to feel shame or guilt for enjoying bacon here!
Roasted asparagus is one way to enjoy the fresh asparagus that is hitting our produce section at this time of year. When you roast asparagus with bacon, you get a smokier, fattier, porkier version of the roasted asparagus.
The bacon will not crisp up here (but it is cooked), unless you put it under the broiler for a minute. I was too lazy to attempt that maneuver.
If you find that the asparagus is too dry for you, spray with a fine mist olive oil before you wrap it in the bacon.
My kids managed to eat their serving of bacon without the asparagus (oh well :)
How do you incorporate bacon into your healthy diet?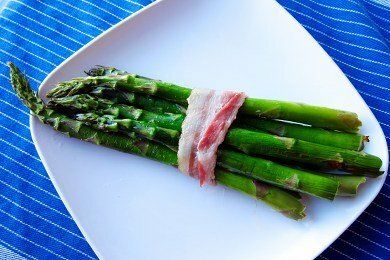 Asparagus Wrapped in Bacon Recipe

(4 servings)

Ingredients
1 pound fresh asparagus
2 strips bacon
salt and pepper to taste

Instructions
Heat oven to 400 F. Snap the ends of the the asparagus at the stem end. Wrap 1/2 pound of asparagus spears into one strip of bacon, repeat. Carefully place wrapped bundles onto baking sheet and bake for 20 minutes. Season with salt and pepper.
Divide into four portions (serve each pile of asparagus with 1/2 slice bacon). Eat with a knife and fork spearing a bit of bacon with each bite of asparagus. Enjoy!
Nutrition Facts
For one serving = 74 calories, 4.1 g fat, 4.5 g carbohydrates, 6.0 g protein, 2.4 g fiber, 222 mg sodium, 2 Points+
Points values are calculated by Snack Girl and are provided for information only. See all Snack Girl Recipes
Other posts you might like:
---

Green thing, I think I love you. Your arrival in my neighborhood Stop-&-Shop means SPRING is coming soon....
---

Snack Girl lives in the middle of nowhere. Sometimes, this isn't so bad - notice how this barn roof is the same color as the Golden Gate Bridge?....
---
---
Get Free Email Updates! Yes please!
---