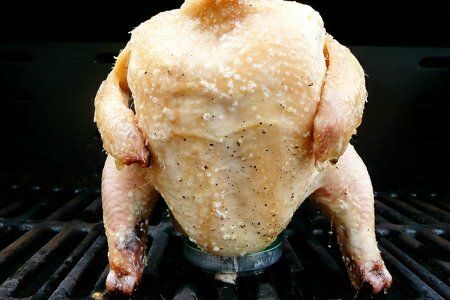 Beer Can Chicken Recipe

Ingredients
1 3-4 pound chicken
1 tablespoon olive oil
salt and pepper to taste
1 can beer or club soda (seltzer water)

Instructions
Remove neck and giblets and discard. Rinse chicken inside and out and pat dry with paper towels. Rub chicken with oil and then rub with salt and pepper.
Heat your grill for 10 minutes on high heat. Set up an area for your chicken that is not over the flames.
Drink or pour out ½ can of beer or club soda. Shove the can up the cavity of the bird so that the legs are pointing down and the breast is up. Place bird on grill and stand it up in the center of the grate, balancing the bird on its legs and can (like a tripod).
Cover the grill, lower the heat to medium-high, and cook for 1 hour and 15 minutes until the breast meat's temperature registers 165 F or until thigh juices run clear when stabbed with a sharp knife.
Points values are calculated by Snack Girl and are provided for information only. See all Snack Girl Recipes