Perfect Roast Chicken On The Grill
Snack Girl rarely reveals her "foodie" side here on the site. Yes, folks, I read cookbooks, cooking magazines, and can converse about morels if pushed.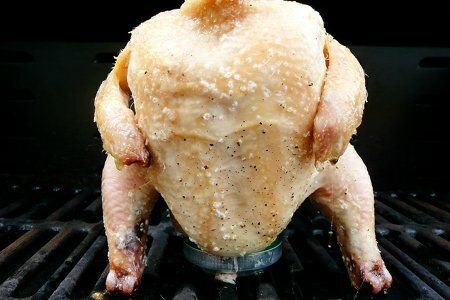 There is part of me that loves to make gourmet food, though I rarely get the time or money to execute my desires. One of the foods that I continue to rework is roast chicken.
Why? Roast chicken is that perfect combination of gourmet and easy. All you have to do is figure out the best way to cook the chicken so that the breast meat doesn't dry out before the darker meat is done cooking.
I have employed a variety of methods to get my chicken into the roast chicken Hall of Fame. Now, I have a new summer method that I should have featured back in June when summer was starting.
The recipe for "Beer Can Chicken" starts with one of my favorite lines EVER in a recipe:
Open a beer can and take several gulps.
Now, that is my kind of recipe! Actually, you don't have to use a beer can. I hear that a can of club soda will work just as well.
The idea here is that you are steaming the chicken with the beer and it is standing up on your grill. The steam keeps the white meat moist and your chicken cooks perfectly while you sit by your pool. In my case, that would be a plastic kiddie pool.
You use indirect heat to cook the chicken which means that you don't want to have a flame directly under it. I have a propane grill with three burners. I turned off the one in the center, put my chicken in the middle of the grill, and left the two side burners on medium low for about 1 hour and 15 minutes.
It worked so well that I had to write about it. It was moist, flavorful, and so great that my daughter (who doesn't like chicken) gave it a thumbs up. Wow!
The white dots you see on the chicken are kosher salt granules. I find that coarse salt is a perfect flavoring agent. You can find kosher salt next to the fine salt in the baking aisle.
Obviously, the calorie amount for the chicken is going to vary quite a bit depending on whether you eat the skin, the dark meat, and the amount you consume. I say try to keep it to four ounces and savor every bite.
Have you tried to roast chicken on the grill?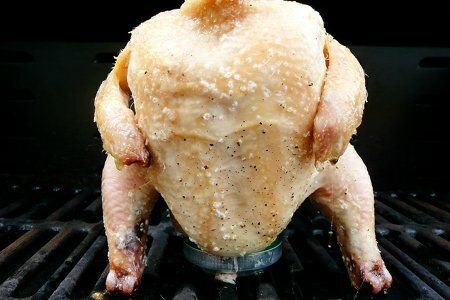 Beer Can Chicken Recipe

Ingredients
1 3-4 pound chicken
1 tablespoon olive oil
salt and pepper to taste
1 can beer or club soda (seltzer water)

Instructions
Remove neck and giblets and discard. Rinse chicken inside and out and pat dry with paper towels. Rub chicken with oil and then rub with salt and pepper.
Heat your grill for 10 minutes on high heat. Set up an area for your chicken that is not over the flames.
Drink or pour out ½ can of beer or club soda. Shove the can up the cavity of the bird so that the legs are pointing down and the breast is up. Place bird on grill and stand it up in the center of the grate, balancing the bird on its legs and can (like a tripod).
Cover the grill, lower the heat to medium-high, and cook for 1 hour and 15 minutes until the breast meat's temperature registers 165 F or until thigh juices run clear when stabbed with a sharp knife.
Points values are calculated by Snack Girl and are provided for information only. See all Snack Girl Recipes
Other posts you might like:
---

Today, Snack Girl is happy to host a guest post from Everyday Maven with a recipe for slow cooker chicken curry. Yum!
---

Snack Girl hasn't sucked on a hockey puck lately, but she has grilled skinless chicken breast past the point of edible....
---
---
Get Free Email Updates! Yes please!
---