Belvita: A New Breakfast Biscuit From Nabisco
Have you noticed these at the end of the aisle as you cruise the outer edge of the supermarket? They are hard to miss.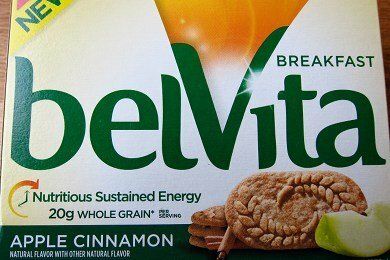 belVita is a new kind of breakfast offering from Nabisco/Kraft and I have received many requests for a review. For example this question came from B.:
I have decided to be more healthier and make an effort to set a good example for my son. Because I have a son, I'm always on the go - I recently saw a commercial for breakfast biscuits called belVita.
I have only bought one box and have been bringing it for the ride to work. They are very delicious but I feel like it might be too good to be true. Can you do a review on this product and explain the nutritional side a little bit more?
First of all, I hear you on wanting to be a good example. And, when you are running around - this can be super difficult.
I know many people who are eating their breakfast on the ride to work to save time and that is why belVita seems like such a good option. But, I do think you should trust your instincts on this because I believe they are too good to be true.
The front of the box promises "nutritious sustained energy" and they are "specially baked to release energy regularly and continuously in your body". Wow, that is amazing! Who wouldn't want that? B., I bought a box too!
A clue to what these actually are is on the box! Check out this photo from a low corner: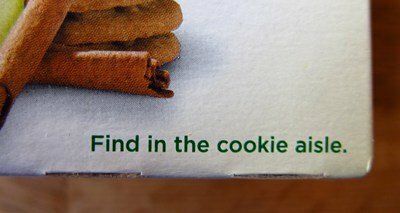 Ahem, the cookie aisle? What? Seems like these should be in the nutritious breakfast aisle. Here is the nutrition information for a package (4 bars = one serving):
230 calories, 8 g fat, 36 g carbohydrates, 13 g, sugar, 3 g protein, 3 g fiber, 170 mg sodium, 6 Points+
INGREDIENTS: WHOLE GRAIN WHEAT FLOUR, ENRICHED FLOUR [WHEAT FLOUR, NIACIN, REDUCED IRON, THIAMIN MONONITRATE (VITAMIN B1), RIBOFLAVIN (VITAMIN B2), FOLIC ACID], SUGAR, HIGH OLEIC CANOLA OIL, WHOLE GRAIN ROLLED OATS, WHOLE GRAIN RYE FLOUR, DRIED APPLES, BAKING SODA, DISODIUM PYROPHOSPHATE, SALT, SOY LECITHIN, DATEM, CARAMEL COLOR, CINNAMON, NATURAL FLAVOR, FERRIC ORTHOPHOSPHATE (IRON), NIACINAMIDE, PYRIDOXINE HYDROCHLORIDE (VITAMIN B6), RIBOFLAVIN (VITAMIN B2), THIAMIN MONONITRATE (VITAMIN B1). CONTAINS: WHEAT, SOY.
What is good about them is that they have 20g of whole grain per serving - which is great for a breakfast bar. What is a problem is the amount of sugar - which is about 3 teaspoons per serving.
Picture spooning THREE teaspoons of sugar into your mouth in the morning. Of course, the sweetness is what makes them taste good.
I decided to get out the old "Healthy or Crappy Cereal Test" to help us evaluate whether we should be eating belVita biscuits for breakfast. In my opinion it is very close to a packaged cereal in that it is a baked whole grain breakfast option.
---
Healthy or Crappy Cereal Test
1. Is the first ingredient whole grain? Yes! The first ingredient is whole grain wheat flour.
2. Is there 5 grams or less of sugar per serving? No! There is 13 grams of sugar per serving (yikes).
3. One serving must provides at least 4 grams of fiber. You can remember this one with Four Fiber. No! It has 3 grams of fiber.

---
BUZZZZZZZZ. So, the belVita bars FAILED the test.
Since I wrote this post I have written a more recent one entitled The Opposite of a Healthy Breakfast.
Check out a great list of healthy breakfast snacks and make a better choice. It isn't hard!
Please share your "GRAB AND GO" healthy breakfast ideas,
---
Other posts you might like:
---

Breakfast is the meal that can throw you off course for an entire day – but not if you eat these healthy breakfast snacks....
---

Would anyone suggest that eating a pack of Oreos is a healthy breakfast?...
---