Turn A Healthy Food That You Hate Into A New Love
How many of you out there hate Brussels Sprouts? I bet you are really looking forward to them on your Thanksgiving table.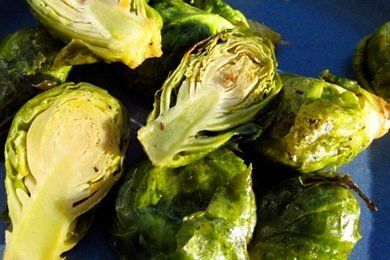 To be honest, I used to hate them too! My family used to boil them and serve these smelly, mushy, ugly blobs onto my plate. yuck.
The problem is that when you boil them they seem to express more of the sulfurous taste associated with the cabbage family. Boiling Brussels Sprouts is a great way to destroy them.
What if you could turn your Brussels Sprouts into candy?
You heard me right! Candy! The sweetness of fresh Brussels Sprouts is best expressed by roasting them in the oven. This technique caramelizes the sugar in the Brussels Sprouts and all of a sudden you have a different food altogether.
Instead of a mushy blob, you have a crunchy side dish that will change your life. Really.
One important tip - do not buy Brussels Sprouts and leave them in your refrigerator for a week. This is an excellent way to ensure that they taste terrible. The fresher the Brussels Sprouts, the sweeter they will taste.
You can serve them cold, room temperature or hot. These would make a great party snack with some toothpicks and some mustard dipping sauce on the side.
Also, you can roast a big batch and then toss them into salads or in your lunchbox for the week. Go buy some Brussels Sprouts! They are in season right now.
(P.S. share this post with all your Brussels Sprout hater pals - 161% of your daily value of Vitamin C, 9 % of Iron - they need to change their minds :)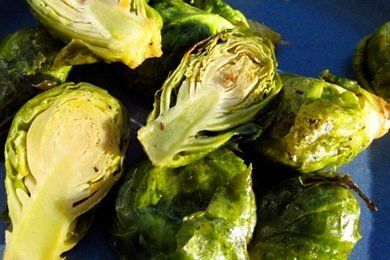 Roasted Brussels Sprouts Recipe

(serves 4)

Ingredients
1 pound Brussels Sprouts
2 tablespoons extra virgin olive oil
salt and pepper

Instructions
Heat your oven to 400 F. Cut off end of sprout and remove any loose leaves and then cut in half. Place Brussels sprouts in a rimmed baking sheet and mix with olive oil, salt, and pepper. Mix up with your hands and roast until fork tender - about 30-40 minutes.
Nutrition Facts
For one serving: 109 calories, 7.1 g fat, 10.2 g carbohydrates, 3.8 g protein, 4.3 g fiber, 29 mg sodium, 2 Points+
Points values are calculated by Snack Girl and are provided for information only. See all Snack Girl Recipes
Other posts you might like:
---

Seems like everyone is talking about kale and quinoa (pronounced KEEN-wah). It only took about 10 readers to ask me about it before I got my butt into gear....
---

Kill it on Turkey day with a fresh side that goes with everything, takes 10 minutes to make, and will WOW your guests....
---
---
Get Free Email Updates! Yes please!
---