The Best Fruit Infused Water Bottle: Review
I am prone to hyperbole when it is warranted and this is the best fruit infused water bottle.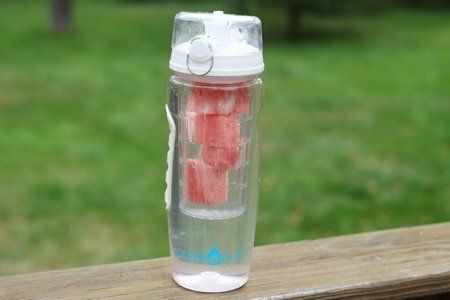 I bet you didn't know you needed one of these but you do! You can't drink light sangria all day now can you.
What is it? It is a large water bottle that allows you to put any fruit you want in the center.
Then, as you drink, you slurp the water through the fruit and get a lovely flavor and it is refreshing. No soda for you!
This is one of those things that if you buy it, and use it, you will save yourself money and calories. You will also drink more water during the summer and remained hydrated.
Do you know how grumpy you get when you aren't hydrated? A friend of mine used to know when I was getting thirsty by my attitude and would hand me a glass of water at the appropriate time.
I got this last year and have packed it with orange and lemon slices and I refill it many times throughout the day amazed at the way the flavor lasted (and made drinking water more enjoyable).
I took it to an author event in Springfield, MA and people asked me more questions about the bottle than my book (sad but true).
You can put all sorts of good stuff in here apples, oranges, lemon, limes, frozen blueberries, strawberries, mangos, cucumbers, mint – whatever you have on hand.
I filled mine with watermelon and at the end of the day stored it in the refrigerator. It lasted 2 days before I refilled it with different watermelon.
This will fit in your car's cup holder (most likely) BUT it does leak if tipped over.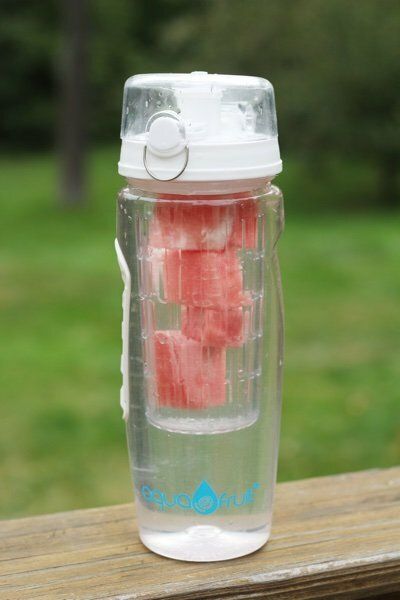 You can find similar products at TJ Maxx and Marshall's. This one was given to me at an event and I instantly fell in love with it.
If you don't like the looks of this bottle check out my Top Eight Tips for Tastier Water.
What do you think of this water bottle? Do you think it would help you drink more water and less sugary drinks?
---
$12.99 Buy on Amazon.com
As an Amazon Associate, I earn from qualifying purchases.
---