Best Homemade Granola
The best homemade granola I have ever made was on my stove and super fast.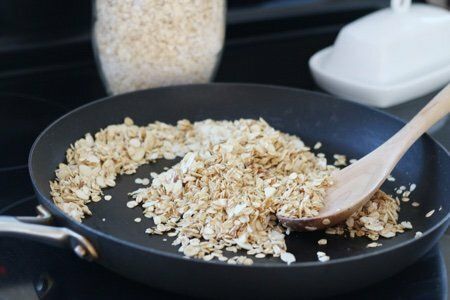 I am a big fan of granola. It is my "cookie replacement" and my breakfast instead of sugary cereal.
Stovetop granola is a fantastic idea. In the past, I have made granola like cookies (baking in the oven and using a bowl). With the stovetop method – you don't use a bowl and you are out of the kitchen in no time.
This recipe should be your motivation to NEVER buy a bag or box of granola or packaged cereal AGAIN.
You've got these ingredients, right?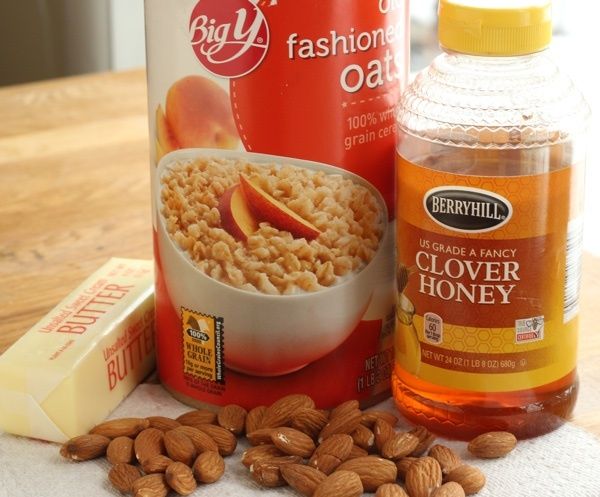 These ingredients are totally customizable. You don't need honey or agave syrup if you don't want to add sugar and any nut that you want to add will be great! I used almonds because I had them in my pantry.
This granola can be gluten-free (if you make sure to use gluten-free oats) and vegan (coconut oil and agave syrup) and has a fraction of the added sugar found in most packaged granolas. It is also a fraction of the cost! Win-win!
Stovetop granola tastes so much better than anything you can find in the store because you toast it and therefore it is "freshly toasted".
I don't mean you just guzzled a glass of champagne.
Freshly toasted is like home baked cookies. There is a flavor that you simply can't get with a packaged cereal (it usually stored in a plastic bag and you can tell!).
I use a tablespoon of butter as both a flavoring agent and a way to introduce some fat to make the granola taste good.
After you make this, feel free to add dried fruit to your taste. I love adding raisins or cranberries to give a flavor punch. I store this in an air-tight jar in my refrigerator to keep it as fresh as when I made it.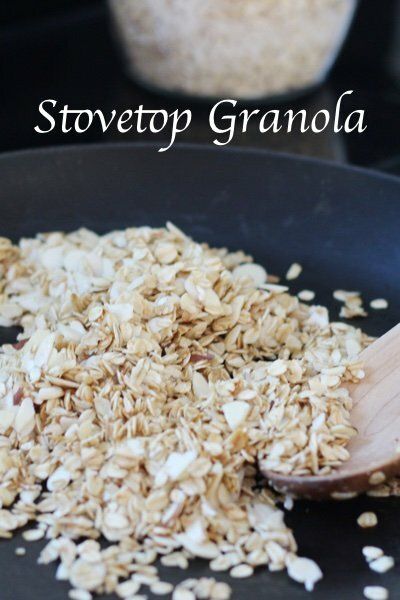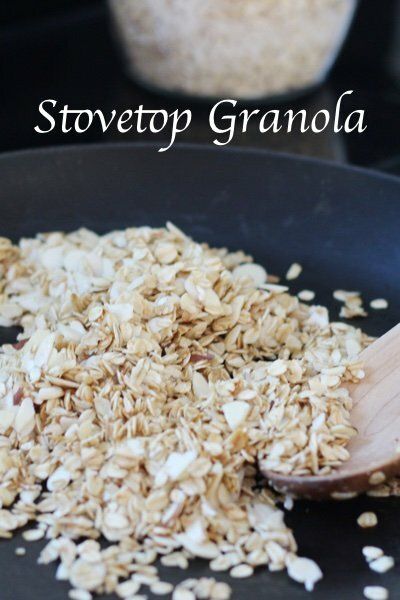 Best Homemade Granola Recipe
Makes 1 ½ cups
Ingredients
½ cup sliced almonds or other nuts (walnuts, peanuts, pecans, etc.)
1 cup whole rolled oats (not instant)
1 tablespoon butter or coconut oil
1 tablespoon agave syrup or honey (optional)
pinch of salt
Instructions
In a frying pan, heat almonds and oats over medium high heat. Stir frequently until toasted – about 5-8 minutes. The oats should be fragrant and lightly browned. Be careful because the nuts will burn easily.
Add the butter, agave syrup, and salt and mix until blended. Remove from heat and store in an air-tight container for up to 2 weeks.
Nutrition Facts
¼ cup is 125 calories, 6.8 g fat, 1.7 g saturated fat, 13.7 g carbohydrates, 0.7 g sugar, 3.5 g protein, 2.4 g fiber, 44 mg sodium, 4 SmartPts
Points values are calculated by Snack Girl and are provided for information only. See all Snack Girl Recipes
Other posts you might like:
---

This isn't really a cookie, but it is pretty close....
---

I have been getting into chia seeds. One reason for my infatuation is that I found them at Aldi for $3. Hurray!...
---
---
Get Free Email Updates! Yes please!
---