The Best Lunch Box Ever: Book & Lunch Box Giveaway
Snack Girl makes lunch for her kids four times per week. You would think because I work with food that it would be easy for me.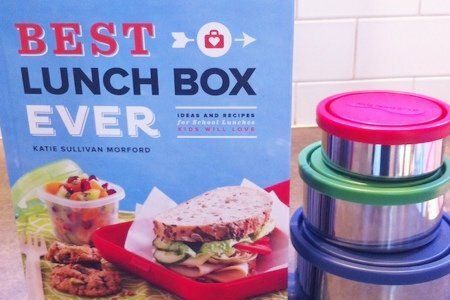 But, it isn't. My children get bored with my lunches and start complaining. Even worse, they start demanding that I buy them school lunch! No way...
My friend, Katie Morford, has written a wonderful book called "The Best Lunch Box Ever" and, honestly, if she were my parent, I would be psyched. No more PB&J on whole wheat. Instead, she uses a whole wheat tortilla to make a wrap that looks divine. She includes healthy sandwich recipes include chickpea panini and deconstructed Caprese cherry tomatoes and mozzarella on skewers.
My daughter loves Katie's book and demanded that I make her the fried rice below for lunch. I doubled the recipe and made enough for the entire family to take to work and school. Everyone loved it.
Comment below with your most innovative lunch idea to enter a giveaway for a book and a stack of stainless steel lunch containers from Kids Konserve (retail $47).
In addition, you can enter to win a grand prize: a Dacor Distinctive Gas or Electric 30 " range. Retail value: $3,199 to 3,399 (depending on gas or electric) via this link: Dacor Distinctive Range Contest.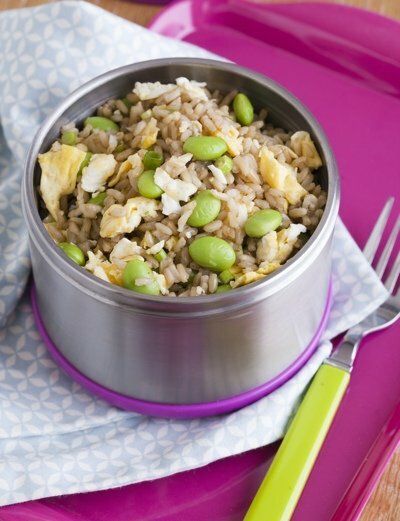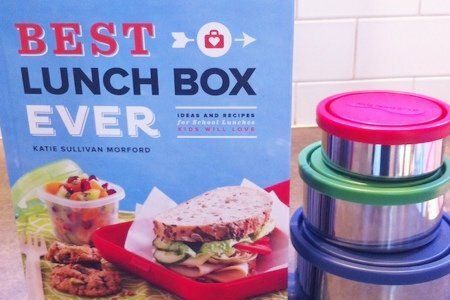 TERIYAKI Fried Rice
reprinted with permission from "The Best Lunch Box Ever" by Katie Morford, RD
WARM AND NOURISHING, this panfried rice is a brown-bag favorite. The dish starts with a couple of scrambled eggs to which rice, edamame, and seasonings are added. If you happen to be making eggs for breakfast, it's just a few extra steps to make this savory lunch dish. Naturally, brown rice is more nutritious than white. Leftover farro or barley make tasty substitutions.
MAKES 2 TO 3 SERVINGS

Ingredients
2 teaspoons toasted sesame oil
2 eggs, lightly beaten
2 green onions, white and light green parts only, thinly sliced
1 1/2 cups leftover cooked rice
1/2 cup cooked shelled edamame
1 tablespoon teriyaki sauce

1. In a medium skillet, heat the sesame oil over medium heat. Add the eggs and scramble until just cooked. Add the green onions, cooked rice, edamame, and teriyaki sauce, and cook, stirring often, until everything is warmed through, about 2 minutes.
2. Divide the fried rice between two or three thermoses.
Instructions
MAKE-AHEAD NOTES: can be made a day ahead and stored in the refrigerator. In the morning before school, warm up and pack into the thermoses.
Points values are calculated by Snack Girl and are provided for information only. See all Snack Girl Recipes
---
$24.95 $17.89 Buy on Amazon.com
As an Amazon Associate, I earn from qualifying purchases.
---
What will I win? A copy of Best Lunch Box Ever accompanied by a set of colorful stacking stainless steel lunch containers from Kids Konserve (combined retail value is $47.00).
How do I enter?
Comment below on your most innovative lunch box idea.
Additional Ways To Enter:
Like Snack-Girl on FaceBook. Comment on the FB page on your lunch box idea.
Follow Snack-Girl on Twitter and Tweet this post (use the Tweet Button in the Share Box at the top of this post).
Snack-Girl can follow and count all the additional entries using magical website tools.
Am I eligible to enter?
This giveaway is offered to US residents only.
When do I find out if I am the winner?
The randomly chosen winner will be announced on Tuesday, August 12th, 2013. You will have 2 weeks to e-mail us back with your home address so we can mail the prize.
---
Get Free Email Updates! Yes please!
---