Best Salad Cookbook EVER
I am delighted that I have found the best salad cookbook of all time. Perhaps that is overstating my excitement - but this book is a wonderful addition to my shelf.
Why do I love it? The biggest reason is that I am always looking for a way to make meat (or any animal product) a condiment in my meal instead of the main event.
Using meat as a condiment is a great idea for a couple of reasons:
Meat can carry large amounts of saturated fat (not good for your heart).
Livestock are responsible for 14.5% of global green house gas emissions (less meat = less gas).
Frequently the meat in a dish is the most calorific part of the meal.
I am not a vegetarian nor do I want to preach against eating animals but I do think that the way to a better diet and healthier planet is by cutting down on meat consumption.
How do you cut the portion of meat and not notice? Use meat as a condiment to other delicious food!!
This book features a steak salad on the cover: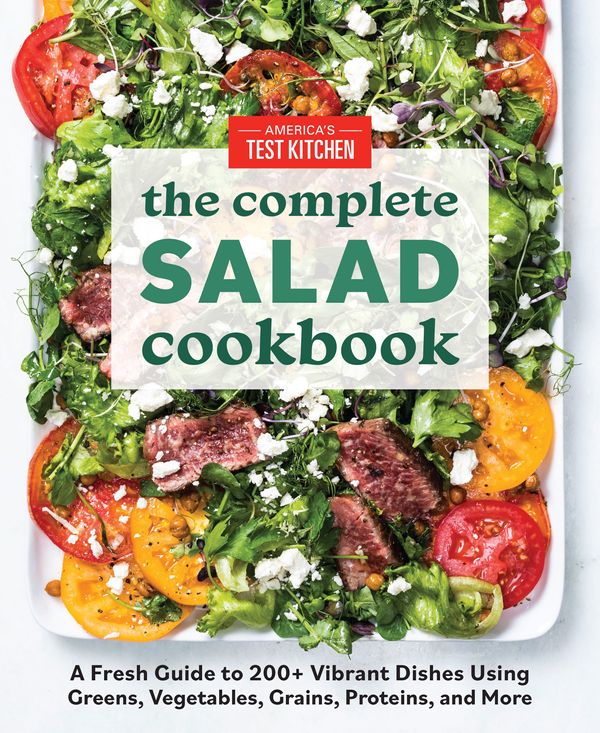 "Hail the new salad" - is the phrase on the back. The Complete Salad Cookbook isn't just about steak salad.
It features:
Leafy Salads
Pasta and Noodle Salads
Fruit and Vegetable Salads
Bean and Grain Salads
When you think about it - there is practically an infinite variety of salads. For example, this book has a range of ethnic salads from larb to couscous. It has not left my kitchen since I received it because I keep finding recipes that I want to try.
Unlike my Homemade Caesar Salad Dressing or broccoli apple salad recipe the seared tuna poke salad below has a "protein" added.
I haven't featured fresh tuna steaks on Snack Girl because they are expensive. No worries! Use grilled chicken or another grilled fish for this recipe. I couldn't find fresh tuna the second time I made this salad - I used marinated flank steak instead.
You can even serve it without the protein (tastes great whatever you do). It is delicious, easy and perfect for summer.
Do you make a lot of meal salads? What are your favorites?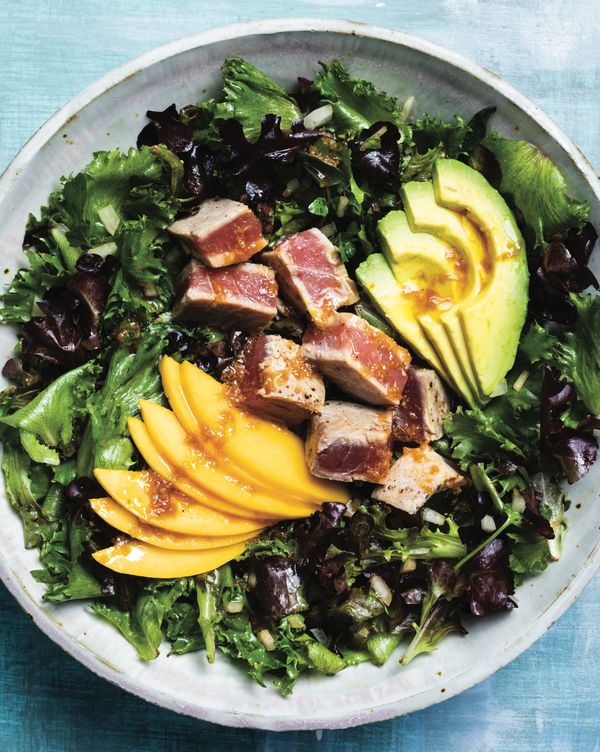 Seared Tuna Poke Salad
Makes 4 servings
Prep time: 10 min
Cook time: 3-5 min

reprinted with permission from The Complete Salad Cookbook
Why This Recipe Works:
We were inspired by poke, a Hawaiian dish of superfresh, raw tuna, to make a salad featuring the fish. We seared the tuna to give it a crisp, browned exterior and deeper flavor and added delicate baby greens enlivened with finely chopped sweet onion. We also paired the tuna with the floral sweetness of fresh mango and the creaminess of ripe avocado and tossed the salad with a dressing of soy sauce, honey, and ginger. Most cooked proteins need time to rest before they are sliced, but cutting the tuna immediately prevented ­carryover cooking and maintained our preferred rare to medium-rare doneness. For tuna steaks cooked to medium, increase the cooking time in step 1 to about 4 minutes per side. Note that this recipe uses unseasoned rice vinegar; we don't recommend using seasoned rice ­vinegar in its place.
Ingredients
4 (4- to 6‑ounce) tuna steaks, 1 inch thick
1/2 teaspoon table salt
1/2 teaspoon pepper
2 teaspoons plus 1/4 cup extra-virgin olive oil, divided
2 tablespoons unseasoned rice vinegar
2 tablespoons soy sauce
4 teaspoons grated fresh ginger
2 teaspoons honey
10 ounces (10 cups) mesclun
1 onion, chopped fine
1 mango, peeled and sliced thin
1 ripe avocado, sliced thin

Instructions
1. Pat tuna dry with paper towels; sprinkle with salt and pepper. Heat 2 teaspoons oil in 12‑inch nonstick skillet over medium-high heat until just smoking. Add tuna and cook until opaque at perimeter and translucent red at center when checked with tip of paring knife and registering 110 degrees (for rare), 1 to 2 minutes per side. Transfer to cutting board and immediately cut into 1‑inch pieces; set aside until ready to serve.

2 Whisk vinegar, soy sauce, ginger, and honey together in bowl. Whisking constantly, slowly drizzle in remaining 1/4 cup oil until ­emulsified. Toss mesclun and onion with half of vinaigrette to coat, then season with salt and pepper to taste. Divide among individual plates. Serve, topping individual portions with tuna, mango, and ­avocado. Drizzle with remaining vinaigrette. Serve.
Nutrition Facts
For one serving = 350 calories, 15 g fat, 2.5 g saturated fat, 19 g carbohydrates, 5 g sugar, 30 g protein, 4 g fiber, 810 mg sodium, 6 Green, 5 Blue, 5 Purple WW SmartPts
Points values are calculated by Snack Girl and are provided for information only. See all Snack Girl Recipes
$34.99 $24.31 Buy on Amazon.com
As an Amazon Associate I earn from qualifying purchases.
---
Other posts you might like:
---

Broccoli apple salad is the perfect salad that you can make on your day off and then eat all week?....
---

My homemade Caesar salad dressing with no mayo was created out of necessity. (I was out of mayo)......
---
---
Get Free Email Updates! Yes please!
---