Best Slow Cooker Whole Chicken
This is the best slow cooker whole chicken. You simply can't mess it up.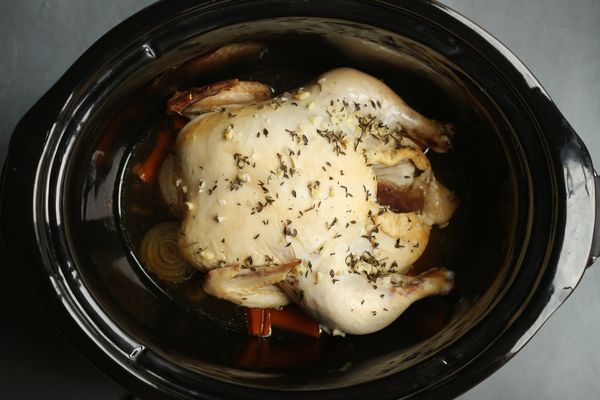 I use cooked chicken in all sorts of recipes including enchiladas, Caesar salad, and chicken salad. If I don't have time I buy a rotisserie chicken but they can be expensive and too salty see: Is Rotisserie Chicken Healthy?.
I love using my slow cooker in summer because it doesn't heat up the entire kitchen like the oven.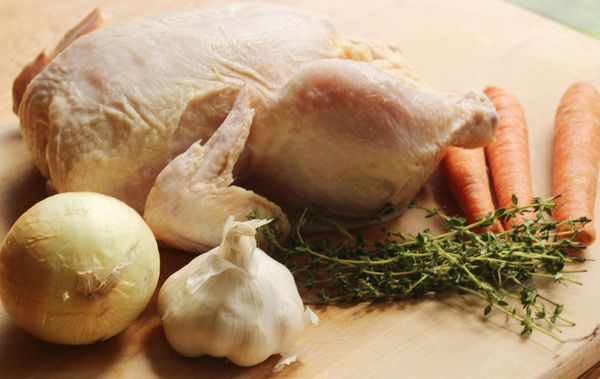 The chicken that you get from slow cooking is pretty good and you can control the flavoring (including the salt). The only issue is that the skin will not be crisp - but you can fix that by putting the chicken under the broiler for a few minutes to heat the skin to crispy.
I used onions and carrots as flavoring agents (you toss them out when the recipe is finished) and as a platform.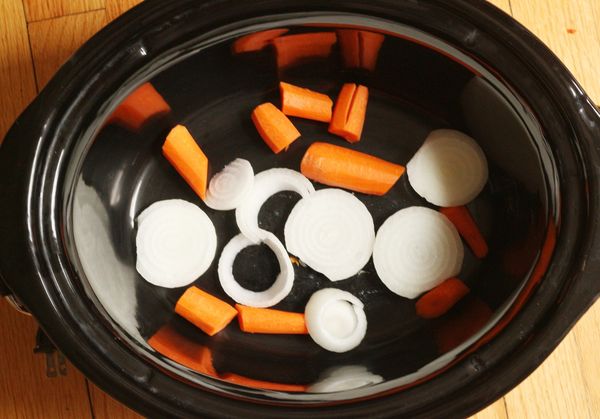 The chicken rests on the top of the vegetables and doesn't stick to the slow cooker. The vegetables prevent the chicken skin from becoming gummy on the bottom of the chicken.
I run the chicken with salt, garlic, and thyme but you can put nothing on it (or whatever you like on your chicken).
Remember to check the cavity of the chicken for the chicken livers. I have cooked a chicken with a plastic bag inside because I forgot to check and it was ruined. So sad.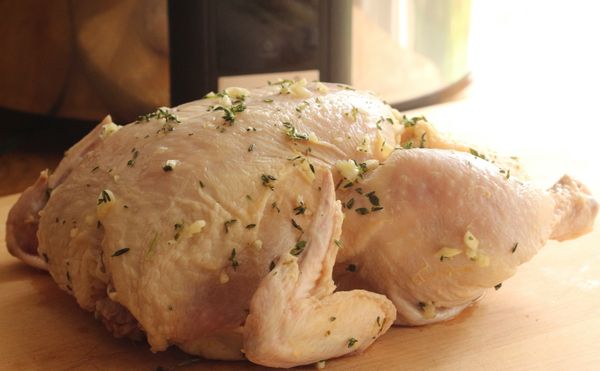 Slow cooking the chicken on the carrots and onion infuses it with flavor. If I didn't have thyme or garlic - I would rub the chicken with a little salt and pepper.
A side benefit of cooking a whole chicken is now you can use the bones and make chicken stock. Now, you have saved money in two ways (made your own chicken and stock) and made the most out of the chicken.
Have you tried to make slow cooker whole chicken? How did it turn out?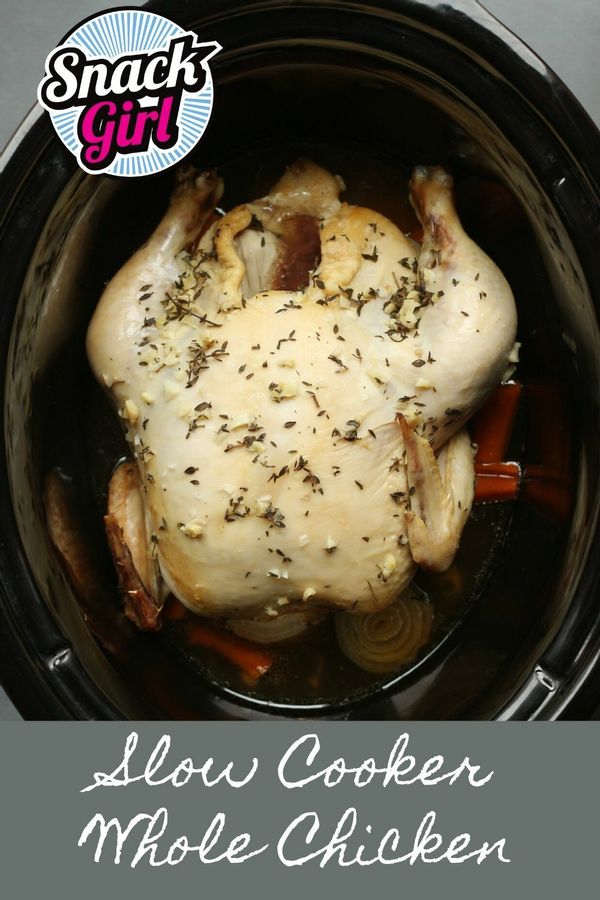 Have you tried to make slow cooker whole chicken? How did it turn out?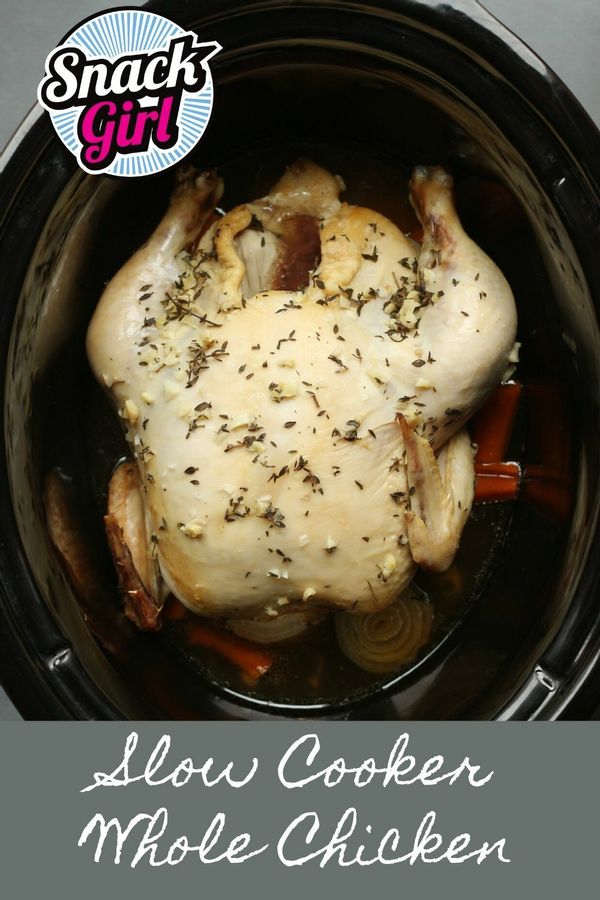 Slow Cooker Whole Chicken Recipe
Makes 8 servings
Prep time: 10 min
Cook time: 3-4 hours

Ingredients
2 medium carrots, peeled and cut into 1-inch pieces
1 medium onion, thickly sliced
3 garlic cloves, minced
1 tablespoon fresh thyme, minced (optional)
½ teaspoon salt
1 whole chicken, 4-5 pounds

Instructions
Place carrots and onion in the bottom of a 6-quart slow cooker. Mix garlic, thyme and salt in a small bowl. Pat your chicken dry (without rinsing) with paper towels and rub the garlic mixture over bird.
Place chicken, breast side up, in slow cooker and cook on HIGH for 3- 4 hours or until the thigh meat reads 160 F.
Nutrition Facts
For three ounces chicken breast (no skin) = 140 calories, 3.0 g fat, 0.0 g saturated fat, 0 g carbohydrates, 0 g sugar, 27.3 g protein, 0 g fiber, 200 mg sodium, 2 Green, 0 Blue, 0 Purple WW SmartPts
Points values are calculated by Snack Girl and are provided for information only. See all Snack Girl Recipes
Other posts you might like:
---

Is rotisserie chicken healthy? You would think the answer would be easy but nothing in processed food is simple....
---

This Instant Pot chicken stock is so inexpensive to make that you will never buy chicken stock again.....
---
---
Get Free Email Updates! Yes please!
---