Giveaway! 6 Weeks To A Healthier You from The Biggest Loser!
Snack Girl is a fan of The Biggest Loser on NBC. This program is a reality TV show with obese people who NEED to lose weight competing against each other for a monetary prize.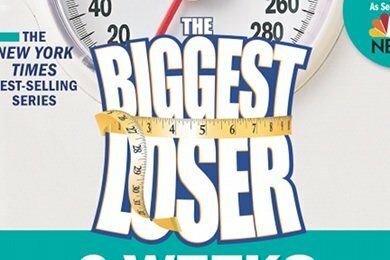 Why do I like it? While the program is sensationalist (picture a lot of crying), it is also educational. The people on it learn about healthy eating and exercise and most seem to go on to healthier lives after the program ends.
This last season, they had a mother-daughter team that didn't even get a chance to go to the "ranch" and they both did well (losing over 50 pounds each!)
My biggest problem with The Biggest Loser is that the contestants get voted off. Why can't they all just stay and get healthy? They all seem so motivated to change their lives and it seems tragic when they have to go home.
The Biggest Loser has become so BIG that it has become a franchise. There is a Biggest Loser Resort - and for $10,000 for 4 weeks you can go there and start your healthy life style. The advertisement says it is the most affordable program in the weight loss resort industry. 10 big ones isn't affordable for me!
Alternatives?
You can audition for the show. Last time around 200,000 people auditioned - so your chances are pretty slim since they only pick 20 or so. Also, you have to be LARGE to qualify. (I only need to lose 10 - 20 pounds so I'm not a good fit.)
Some savvy people called Michelle and Rob started their own blog - Who Needs The Ranch because clearly we all can't be on the show or pay for the resort. Check it out for great ideas on how to create your own weight loss plan!
Also, there are the books and videos that the show has produced for the rest of us. I have featured Jillian Micheals' "30 Day Shred" and "Yoga Meltdown" in other posts (see below) and I think they are great. (She also has a number of books.)
Finally, there are a series of The Biggest Loser books. The latest one is called, "6 Weeks to a Healthier You" and features 6 weeks of menus for weight loss.
I got to meet Cheryl Forberg, RD, nutritionist for The Biggest Loser program, a few weeks ago to discuss the book. (I will do a post on our interview soon.) She sent me some signed copies of her book to giveaway and I am excited to do it.
Why do I like the book? It features REAL food and exercise suggestions in an easy to follow format. Six weeks of menus is a great start to a healthy eating lifestyle and if you were to follow them, you would seriously change. It features whole foods and lots of yummy snacks that are low in calorie.
You are going to HAVE to cook with this book. Honestly, I can't see how to have a healthy lifestyle without cooking. The recipes in the book are accompanied by fabulous photographs to entice you to make them.
To enter to win the book, comment below about your favorite diet plan - add some entries on FaceBook or Twitter. I will count the entries and randomly choose a winner next week.
Good Luck!
This book giveaway is courtesy of Avocados from Mexico.
---
What will I win?
A copy of "6 Weeks To a Healthier You" signed by Cheryl Forberg, RD (nutritionist for The Biggest Loser)
How do I enter?
Comment in the box below about your favorite diet plan.
Additional Ways To Enter:

Follow Snack-Girl on FaceBook.

Comment on our wall about about your favorite diet plan.

Follow Snack-Girl on Twitter

Tweet this post (use the Tweet Button in the Share Box at the top of this post).

Snack-Girl can follow and count all the additional entries using magical website tools.
Am I eligible to enter?
Anyone with a valid e-mail and a U.S. mailing address is eligible.
When do I find out if I am the winner?
The winner will be announced on July 14th, 2010. You will have 2 weeks to e-mail us back with your home address so we can mail the prize.
---
$21.99 $11.63 Buy on Amazon.com
As an Amazon Associate, I earn from qualifying purchases.
---
$14.98 $8.50 Buy on Amazon.com
---
Want to read about snacks?
Change Your Deviled Eggs into Angeled Eggs (Low Cal Recipe)
Better and Faster than A Bowl of Cold Cereal
3 Reasons to Avoid Ritz Crackers
How To Find Great Fruit and Veggies