Looking For A Low Cal Burger? Give This Yummy, Simple, and Vegan Burger A Shot
I recently noticed that my favorite brew pub has a VEGGIE burger on its menu. Yes, we have shifted a bit when it comes to our burger consumption.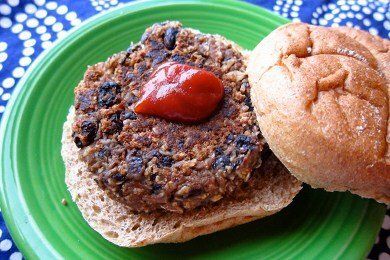 We can try turkey, soy, veggie, etc. and still have a "burger". I have been searching for a way to make my own non-meat burger ever since I featured a Lentil Chipotle Burger from a vegan chef.
My problem with that recipe is that it took ALL DAY. I had to cook the beans, saute the veggies, use my food processor, and then fry up the delicious results. It was worth it - but I don't have that kind of time on my hands.
Many other recipes for veggie burgers include eggs to hold the burger together. Since this is a non-meat item, I think it doesn't make sense to make with eggs. Why not just go vegan if you are going to skip the meat?
I decided to use canned black beans, skip the veggies, and see what I got. I made a "black bean oat burger" which tastes really good and is almost as fast as making a regular "red meat" burger.
Let's be clear, this is not a replacement for a COW meat burger. This is its own lovely thing that can be eating for breakfast, lunch, or dinner and served plain, in a tortilla, or on a bun.
The key to making these burgers go from mediocre to delicious is you! If you like your food bland - don't add anything. If you like spice try chili powder, curry powder, salt, ground cumin, etc.
You can taste these before you cook them! This isn't meat so just taste the batter and see what it needs. I added one teaspoon of chipotle chili powder, 1 teaspoon of cumin, and 1/2 teaspoon of salt and they were SPICY. I happen to like spicy so this worked for me - but my kids won't eat them. Oh well.....
If you don't have instant oats in your house, pulse your whole oats in your food processor for about 10 seconds or until they are a bit ground up. The whole oats will be too tough to chew in the burger.
Finally, if you can get your hands on gluten-free oats - these burgers are both vegan and gluten-free! Hurray!
Do you make your own "veggie" burger?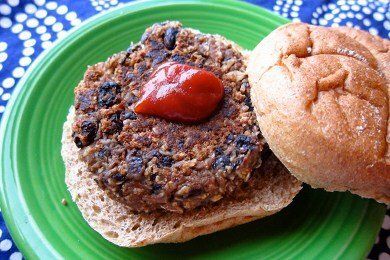 Black Bean Oat Burger Recipe
(makes 6)
Ingredients
1-15.5 ounce can black beans, drained
1/4 cup hummus
1 cup instant oats
1 teaspoon chili powder (optional)
1 teaspoon cumin (optional)
salt to taste
1 teaspoon vegetable oil (for pan)
Instructions
Mash 1/2 can of beans in a large bowl with a fork or potato masher. Add rest of beans, hummus, oats, spices, and salt and mix with your hands. Taste the batter to adjust the seasoning. If the batter isn't stiff enough to form a patty, add more oats. Form burger patties and place on plate.
Heat a fry pan over medium high heat. Add one teaspoon vegetable oil. When pan is hot, add burger and fry on one side until light brown (about 3-5 minutes). Repeat for the other side.
Serve with all the usual burger fixin's and enjoy!
Nutrition Facts
One burger is 116 calories, 2.8 g fat, 20.0 g carbohydrates, 6.0 g protein, 5.0 g fiber, 327 mg sodium, 2 SmartPts
Points values are calculated by Snack Girl and are provided for information only. See all Snack Girl Recipes
Other posts you might like:
---

Snack Girl has been looking for a packaged veggie burger to endorse as a great snack. And, she hasn't found one :(...
---

This burger above has a secret. It is not as fattening as it seems. What did Snack Girl do?...
---
---
Get Free Email Updates! Yes please!
---