Gluten-Free Black Bean Blender Brownies
Sometimes you hear a crazy idea and you simply must try it.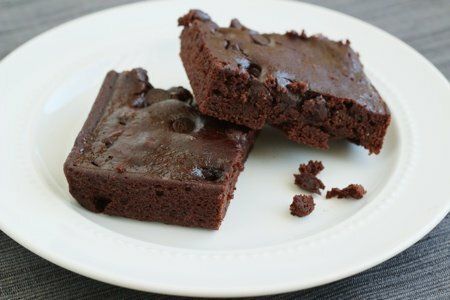 I have tried all sorts of things for this website that have not worked. I will not enumerate the number of bad ideas I have tried in the search for healthy, delicious food. (except for this one recipe that I made with avocado and chocolate that was awful)
Today, I will talk about making brownies with black beans which sounds crazy. I first attempted this with pre-packaged brownie mix – see Try Adding This To Your Brownie Mix and people loved it.
When I saw a take on this recipe that uses a BLENDER, I knew it was for me. Anytime I can use my blender instead of a mixer, I will do it. I have a $50 blender that was given to me 10 years ago and that thing can mix up a storm.
After making these, I asked my husband to try them (and didn't tell him about the beans). He said, "These aren't gourmet brownies but I really like them."
I think he was talking about those thick, chewy, dark chocolate brownies that alter your life expectancy.
These are not the real thing, but they are moist, chocolately, and have many fewer calories and saturated fat than their gourmet counterparts. They are still a treat.
Do something crazy! Give them a try.
Have you tried black beans in brownies?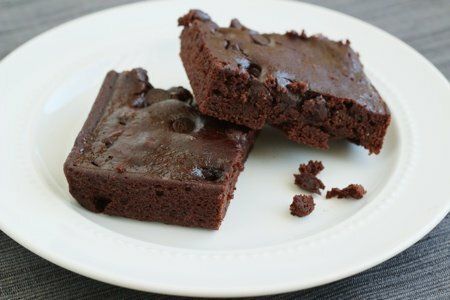 Black Bean Blender Brownie Recipe

Makes 16 brownies (2 inch x 2 inch)

Ingredients
1-15.5 ounce can black beans
3 large eggs
3 tablespoons canola oil or other vegetable oil
¼ cup cocoa powder
2/3 cup sugar
1 teaspoon baking powder
1 teaspoon vanilla

¼ cup bittersweet chocolate chips

Instructions
Preheat oven to 350 F. Spray an 8-inch square baking pan with non-stick spray.
Pour black beans in to a colander and thoroughly rinse all of the bean juice off of them. Add the rinsed beans, eggs, canola oil, cocoa powder, sugar, baking powder, and vanilla to a blender. Blend until very smooth.
Pour batter into pan and sprinkle with chocolate chips. Bake for 25-30 minutes until cooked through. Let cool, cut into 16 pieces, and enjoy!
Nutrition Facts
For one brownie = 113 calories, 4.8 g fat, 1.1 g saturated fat, 15.4 g carbohydrates, 9.8 g sugar, 3.4 g protein, 2.0 g fiber, 20 mg sodium, 3 Points+
Points values are calculated by Snack Girl and are provided for information only. See all Snack Girl Recipes
Other posts you might like:
---

I bet you are wondering what "this" is - and it is a natural ingredient from a plant. Not the plant most of you are thinking of because this is a family website....
---

Looking for that perfect gift for that special someone? Put down your credit card and rev up your food processor.
---
---
Get Free Email Updates! Yes please!
---