BLT Salad
It isn't hard to convert a sandwich into a salad when it is made with bacon, lettuce and tomato (BLT). This BLT salad is simple and compelling.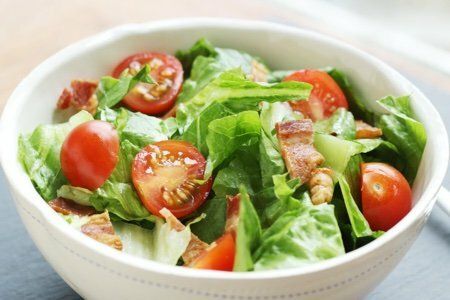 Whenever I am in a questionable eatery, I always order a BLT. It is the sandwich that almost no diner, food stand, or chain can get wrong.
The other reason that I order it is I adore the sandwich. It has to be one of my all time favorites (take that turkey cranberry panini!) because of the crunchy, saltiness of the bacon paired with the soft, sweetness of the tomato.
The biggest problem with the classic BLT is that the ratio of bacon to lettuce is all wrong – this salad solves that problem.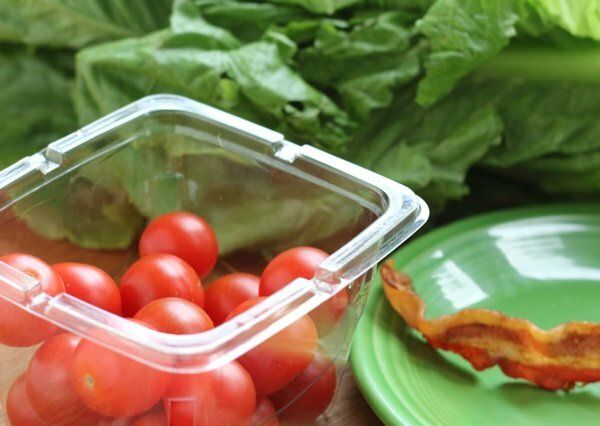 This salad is an excellent example of using meat as a condiment. Since bacon has such a salty and strong flavor, it is wonderful in little bits.
I don't like bacon bits – I like regular bacon (call me old fashioned) so I cooked some for my salad. My method is great for about 8 slices so I don't have to cook bacon every time I want this salad. In a 400 F oven, I roast the bacon on a rimmed baking sheet for 15-20 minutes until crunchy. Then, I blot the bacon with paper towels to remove the fat. I store the bacon in a tightly sealed container until I am ready to use it.
You can also buy pre-cooked bacon in the store - which is far easier. I have found the cooked bacon to be pretty good.
I used my favorite homemade salad dressing to flavor the salad but you can use your favorite. Balsamic vinegar is a wonderful choice but I can also see going with a creamy style of dressing (to replace the mayo that would usually be on a BLT).
The one thing you won't see here is bread which makes this recipe gluten-free (and paleo).
You don't need bread to make tomatoes and bacon taste delicious.
This salad is simple to put together and like the broccoli apple salad recipe you can eat it all week. I would store the components separately and mix when ready to eat.
What sandwiches have you turned into salad?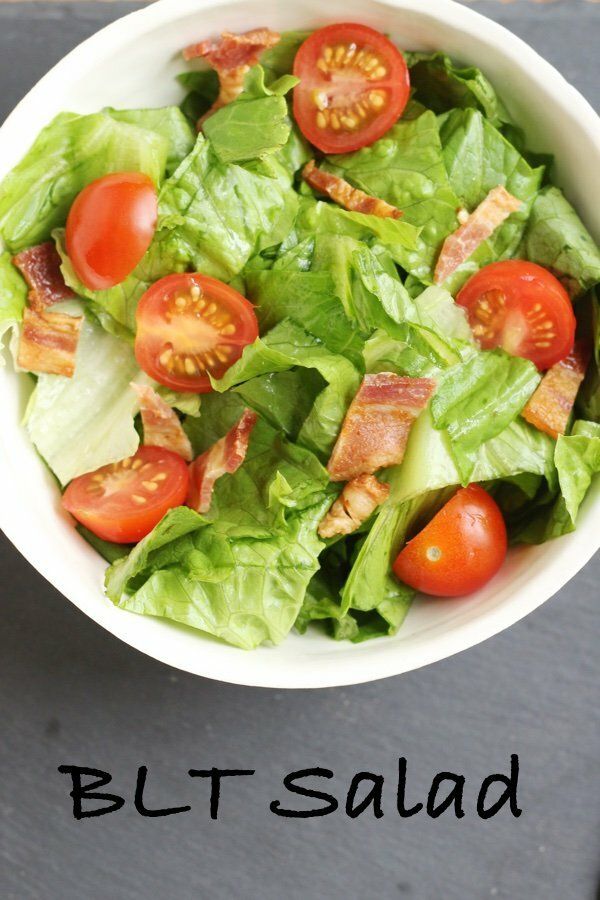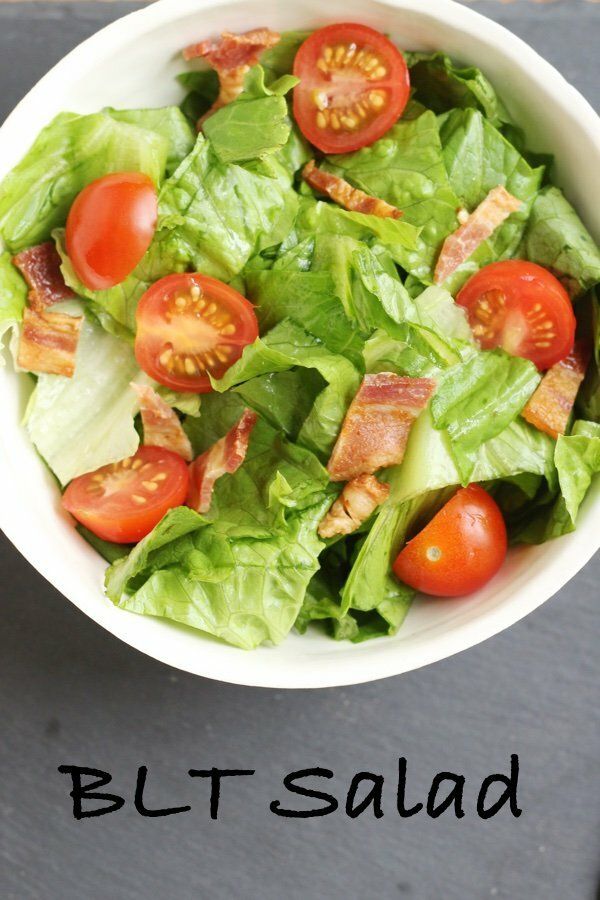 BLT Salad Recipe
Makes 1 salad
Ingredients
1 slice bacon, cooked and crumbled or chopped
2 cups Romaine lettuce, washed and chopped
½ cup cherry tomatoes, sliced
1 tablespoon DIY Salad dressing or whatever dressing you have on hand

Instructions
Toss bacon, romaine, tomatoes, and dressing in a medium bowl. Serve immediately.
Nutrition Facts
With DIY dressing = 157 calories, 10.7 g fat, 2.5 g saturated fat, 12 g carbohydrates, 3.5 g sugar, 4.8 g protein, 1.8 g fiber, 380 mg sodium, 5 SmartPts
Points values are calculated by Snack Girl and are provided for information only. See all Snack Girl Recipes
---
Get Free Email Updates! Yes please!
---