You know how Christmas only comes once a year? If you subscribe to Blue Apron, it is more like once a week....
Inside that box up there are fresh ingredients for meals that you prepare and serve your family. You don't have to:
Decide what to make.
Go to the grocery store and hunt down ingredients.
Find a great recipe.
All you have to do is open the box, grab the ingredients, take a gander at a recipe card with photos, and start cooking. How easy is that?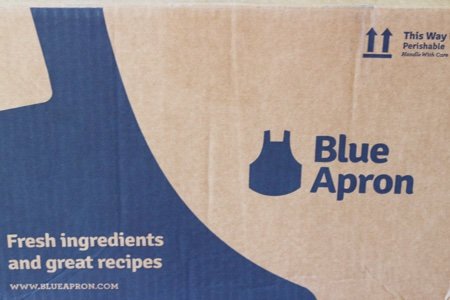 Below is a photo of the full color, 2 sided print out for "Creamy Malfada Pasta". We had Blue Apron delivered last week and we tried a couple of recipes.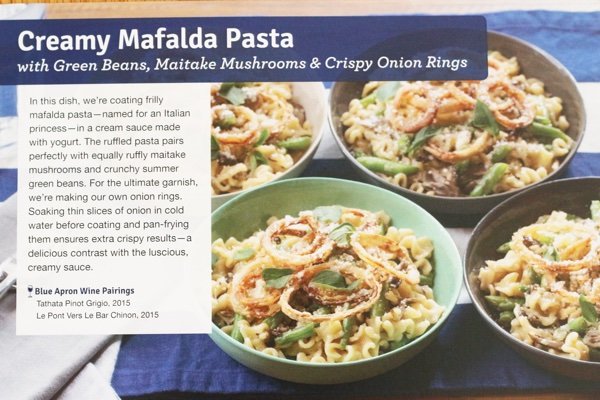 This one featured mafalda pasta, green beans, maitake mushrooms, garlic, onion, fresh oregano, butter, flour, Greek yogurt, and Parmesan cheese.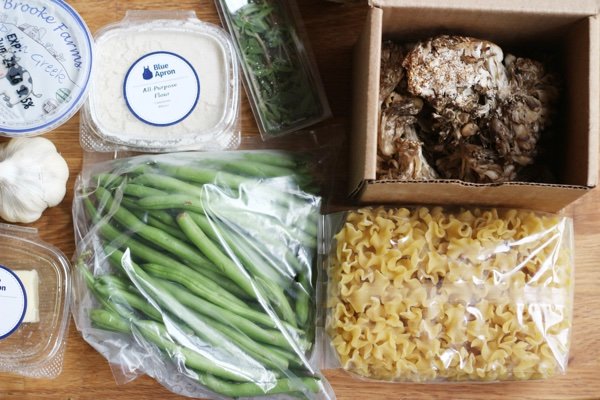 I had never tried to cook with maitake mushrooms (AKA Hen of the woods). I happen to love mushrooms in everything so I was instantly in love with this funny mushroom. It is frilly, bulbous, earthy, and fun to work with.
Malfada pasta was also new to me. It is like a short small ribbon of pasta – not unlike a mini-lasagna noodle.
My whole family was intrigued by the recipe and my daughter instantly wanted to cook it all herself. She felt empowered by the recipe card and went ahead and made the onion rings (which topped the pasta).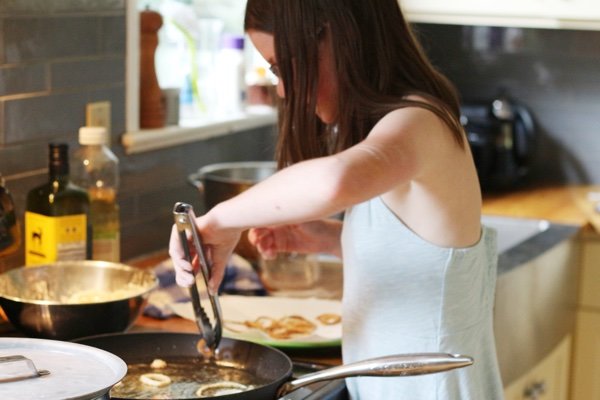 The combination of pasta and vegetables made it into a one dish meal and everyone, including my picky 9 year-old son – loved it. The crunchy onion rings combined with the soft mushrooms and pasta made an intriguing texture contrast. The hit of fresh oregano at the end was dreamy.
The meal was about 600 calories per serving (though, I didn't eat all of mine) and took about 30 minutes to put together. Every meal has a calorie count included on the recipe page (though not a full nutritional breakdown).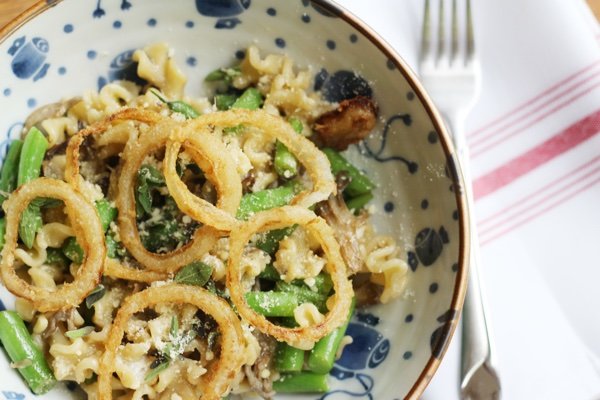 Another night we made "Beef Tacos & Roasted Green Beans with Cucumber-Avocado Salsa". This recipe featured a lot of chopping – lettuce, radishes, cucumbers, and avocados.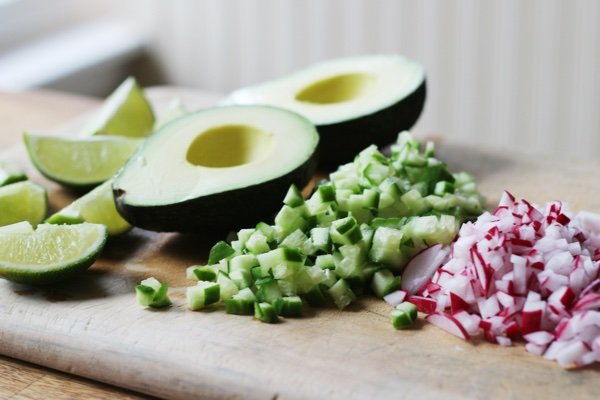 The only cooking was browning the sliced beef and roasting the green beans and red onions so that was super easy.
The whole recipe was a huge step above our usual taco night (ground beef with taco seasoning,). The roasted green beans were delicious with the red onion. Also, the salsa was different and compelling.
Overall, Blue Apron was a win for my family. At abut $8.74 per serving for my family of four, it wasn't cheap but it was far less expensive than take-out.
The meals are more gourmet (think date night) than your average meal and might introduce your family to new flavors. Also, there are clear portions so you won't be tempted to over eat. We did not have leftovers in my family (but my son tends to eat everything in sight).
Blue Apron is giving Snack Girl Readers a special coupon – Get 2 Meals Free on Your First Order with this link.
You can order three recipes per week that serves 2 people for $59.94. If you have four people in your family you can order 2 meals for $69.99 or 4 meals for $139.84.
After you remove the ingredients from your box, you can return it to Blue Apron for reuse and recycling.
I think this service is wonderful for people who want to cook but lack the time to go to the store or plan a meal. It would also be wonderful for people who are just learning how to cook because they will love the support.
Let me know if you give it a try!
This is a sponsored conversation written by me on behalf of Blue Apron. The opinions, photos, and text are all mine.