A Delightful Blueberry Crisp
There are times to stop counting calories and, today, I am going to share one of mine.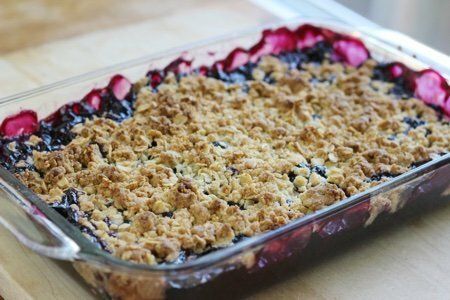 My family went berry picking and managed to pick literally a million blueberries (or some big number). I LOVE blueberries and for $2.50 per pound, I couldn't stop picking them.
Here is a blueberry branch from the farm: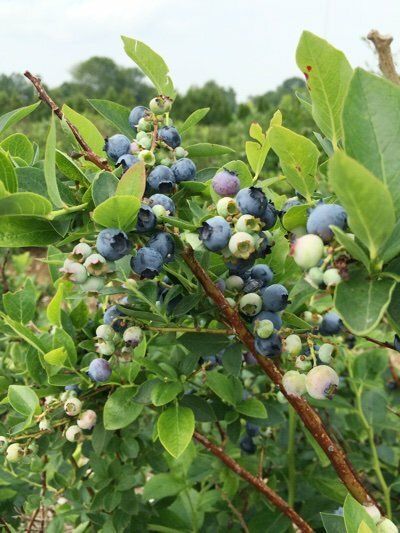 We froze many of our "catch" but I kept dreaming of a blueberry dessert that would use as many blueberries as possible. No, not blueberry pie (do I look like my pastry crust is perfection?) but blueberry crisp (can't go wrong).
You need 6 cups of blueberries which is why this is a special treat because most of us aren't swimming in them. I was doing the backstroke through mine and couldn't wait to cook them into a perfect dessert.
This dessert uses butter, white flour, and sugar and I simply don't want to change it. Yes, I am sure I could "healthify" it but some recipes shouldn't be messed with. I am not even going to include the nutrition facts because I DON'T CARE.
It is too wonderful to analyze. Smell the crisp baking, spoon it slowly in your mouth and remember for a minute that heaven is on earth. It can be found on a blueberry bush.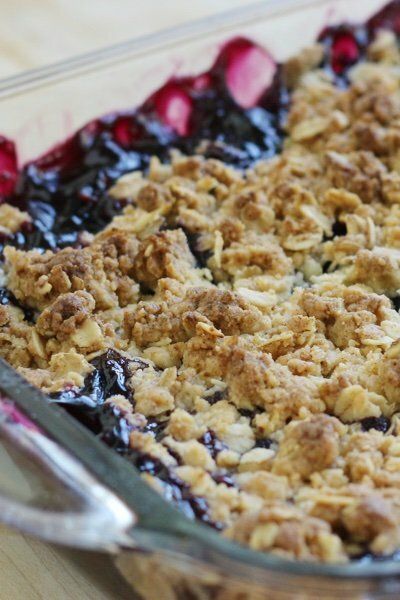 What is your favorite thrilling recipe?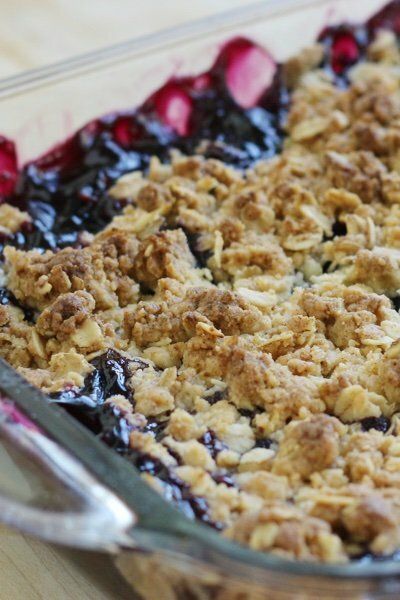 Blueberry Crisp Recipe
Filling:
6 cups blueberries
½ cup sugar
1 tablespoon cornstarch
dash of salt
Topping:
6 tablespoon unsalted butter
1/3 cup sugar
¾ cup all-purpose flour
½ cup whole rolled oats
½ teaspoon baking powder
¼ teaspoon salt
Preheat oven to 375 degrees. Mix blueberries, sugar, cornstarch, and salt in a large bowl and put in a 9x13 inch casserole. Cream sugar and butter together. Mix flour, oats, baking powder and salt in a small bowl. Mix butter mixture and flour mixture together until topping forms clumps.
Sprinkle topping over the blueberries and bake for 1 hour until topping is golden brown. Enjoy, hot, cold, or room temperature.
Points values are calculated by Snack Girl and are provided for information only. See all Snack Girl Recipes
---
Get Free Email Updates! Yes please!
---