Move Over Blueberry Pie! Meet Blueberry Slump
Snack Girl loves to make pie-crust because it is so fun!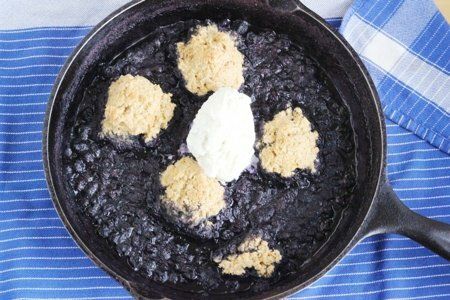 You get to mess up your kitchen counter with flour and hope that you got the texture correct – or it ends up like rubber. Yes, I love stress.
For those of you who haven't tried to make a crust, don't bother. This recipe will help you decide that crust is for people who are stuck in their ways.
I introduce the "slump". It is not a good name but what are you gonna do?
This recipe turns pie on its head. You get a lot of pie filling and a little bit of pastry - which saves an enormous amount of calories. Pastry crusts tend to have 8 tablespoons of butter.
I found this slump to be deeply satisfying and I enjoyed making it in my cast iron skillet – but it is not necessary. You can make it in any oven proof pan you have kicking around.
I wouldn't call it healthy (because of all the sugar) but I would say it is flavorful and (bonus!) it turns your teeth purple!
Have you ever made a slump?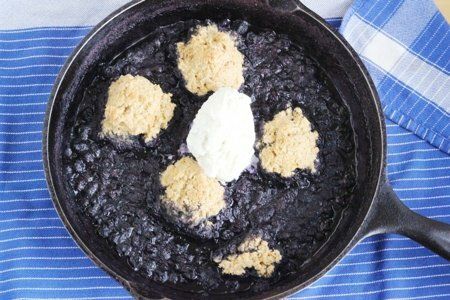 Blueberry Slump Recipe

Makes 6 servings, ½ cup per serving

Ingredients
4 cups frozen blueberries
¼ cup sugar
½ cup water
½ teaspoon ground cinnamon
1 teaspoon cornstarch (optional)

For biscuits:

½ cup white whole wheat flour
1 tablespoon sugar
1 teaspoon baking powder
2 teaspoons butter
½ cup milk, plus one tablespoon
Instructions
Preheat oven to 400 F. In a 10 inch oven proof skillet, mix blueberries, sugar, water, and cinnamon. Bring the mixture to a boil and then reduce the heat and simmer for 10 minutes until thickened. Add corn starch if you believe the blueberry syrup isn't thickened enough for your tastes.
While blueberries are simmering, mix flour, sugar, baking powder, and butter with your hands until it resembles coarse crumbs. Add milk and stir until just moistened.
When blueberries are cooked, drop batter in 6 small portions and transfer the skillet to the oven. Bake for 17-20 minutes until biscuits are golden brown. Serve when warm.
Nutrition Facts
For one serving = 150 calories, 2.2 g fat, 1.1 g saturated fat, 32.9 g carbohydrates, 21.2 g sugar, 2.8 g protein, 3.5 g fiber, 11 mg sodium, 4 Points+
Points values are calculated by Snack Girl and are provided for information only. See all Snack Girl Recipes
Other posts you might like:
---

Making delicious baked goods without a ton of calories is difficult....
---

I know what you are thinking. How can a muffin save a life? Don't we usually use things like electrified paddles?....
---
---
Get Free Email Updates! Yes please!
---